All things TIM HOLTZ at Creativation 2020!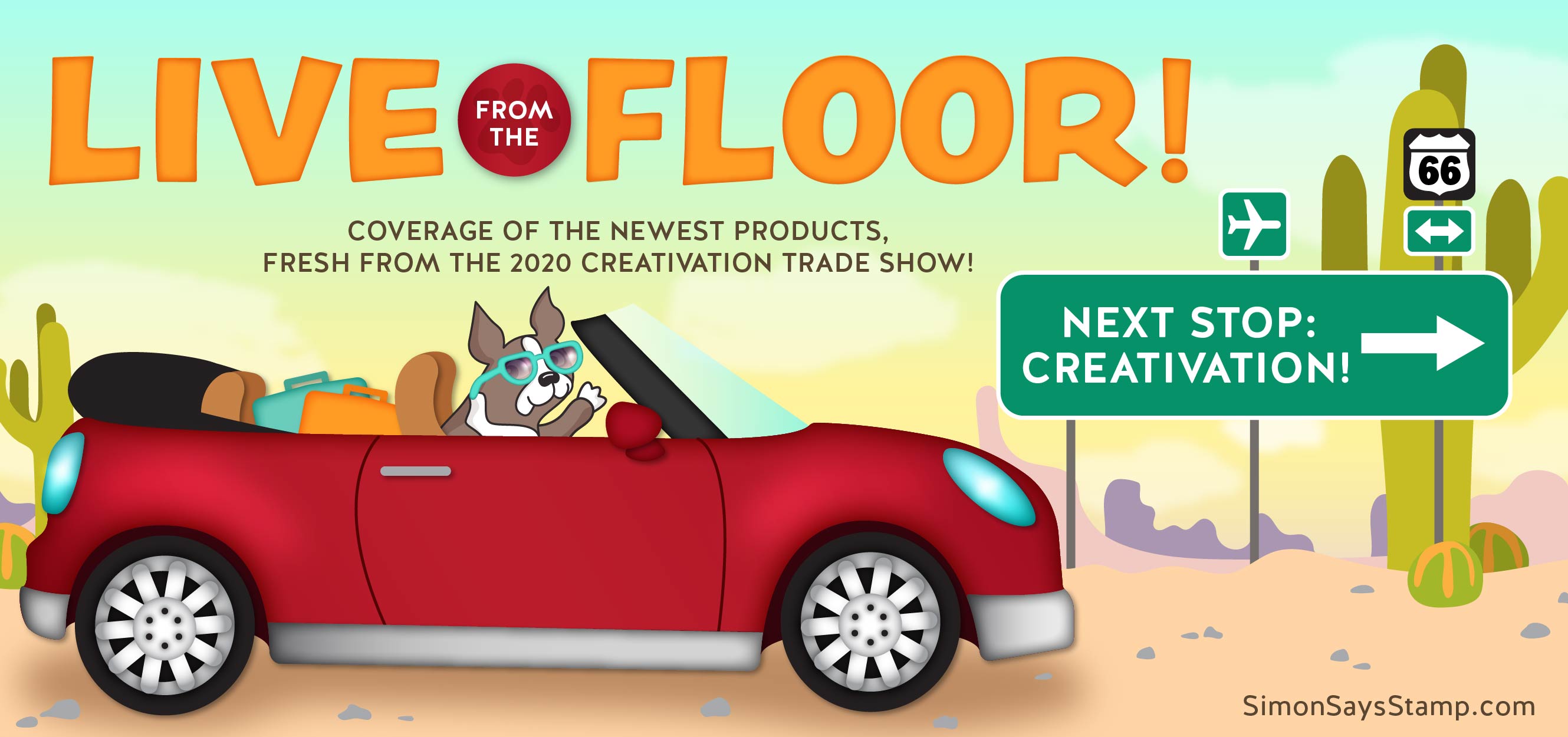 Hello friends! We are LIVE on the floor at Creativation 2020 and you would not believe all the amazing things we are seeing here!
Tim Holtz has caught our crafty hearts with all his fabulous, new releases and we wanted to show you our favorites that are going to have you as inspired as we are!
Our owner, Heidi Crowl got to catch up with Tim, too!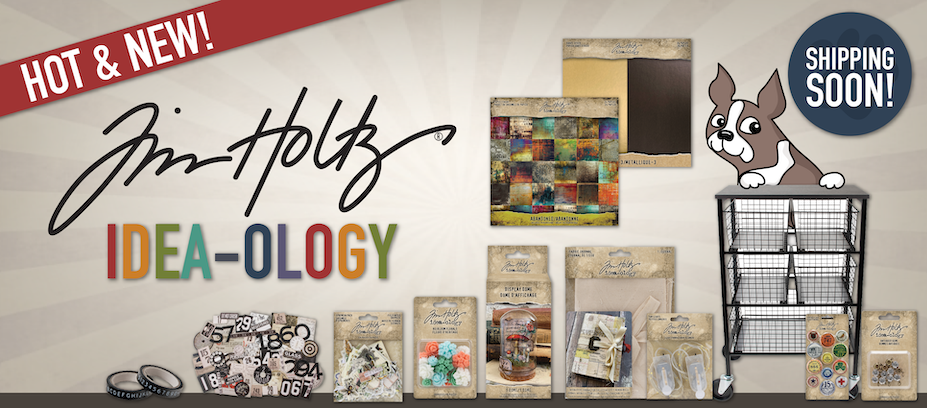 Over at the Idea-ology booth, we're head-over-heels about the new collection Tim has curated for the show. Trendy Display Domes make for adorable terrariums, especially when paired with Field Notes ephemera.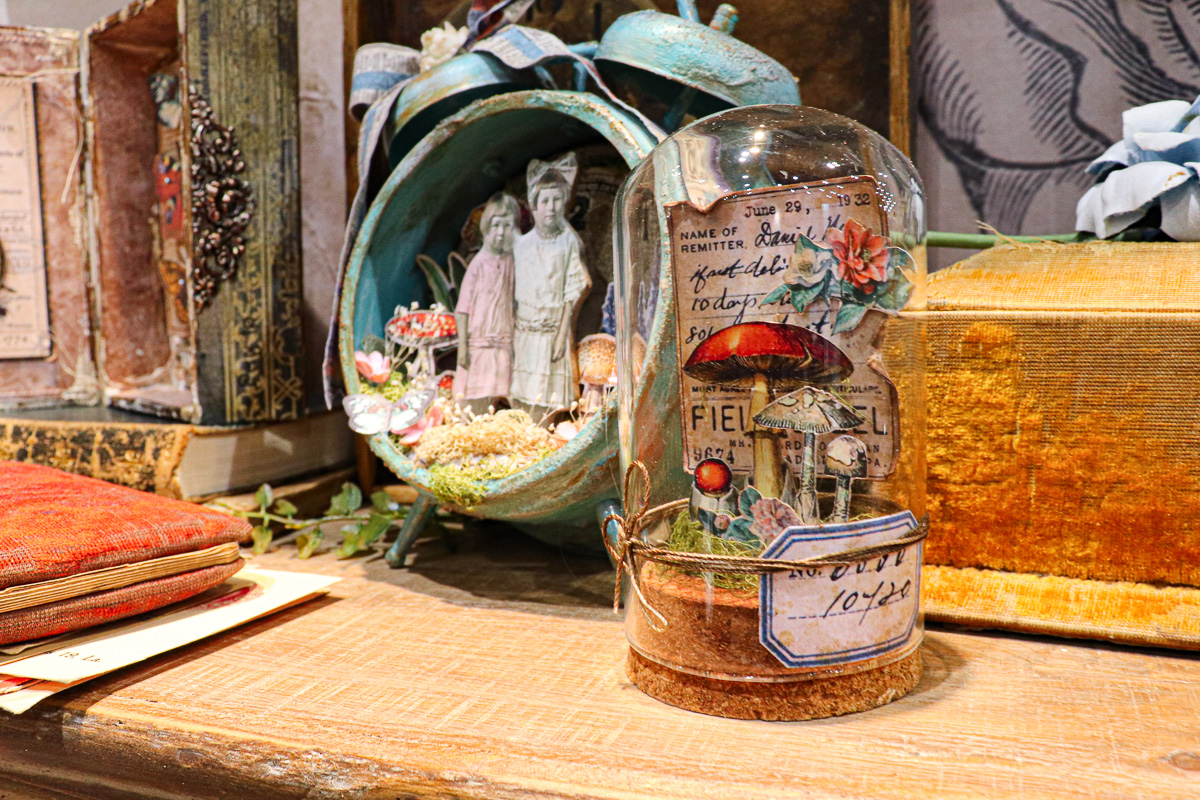 And oh my gosh look at all the projects using strings of Tiny Lights!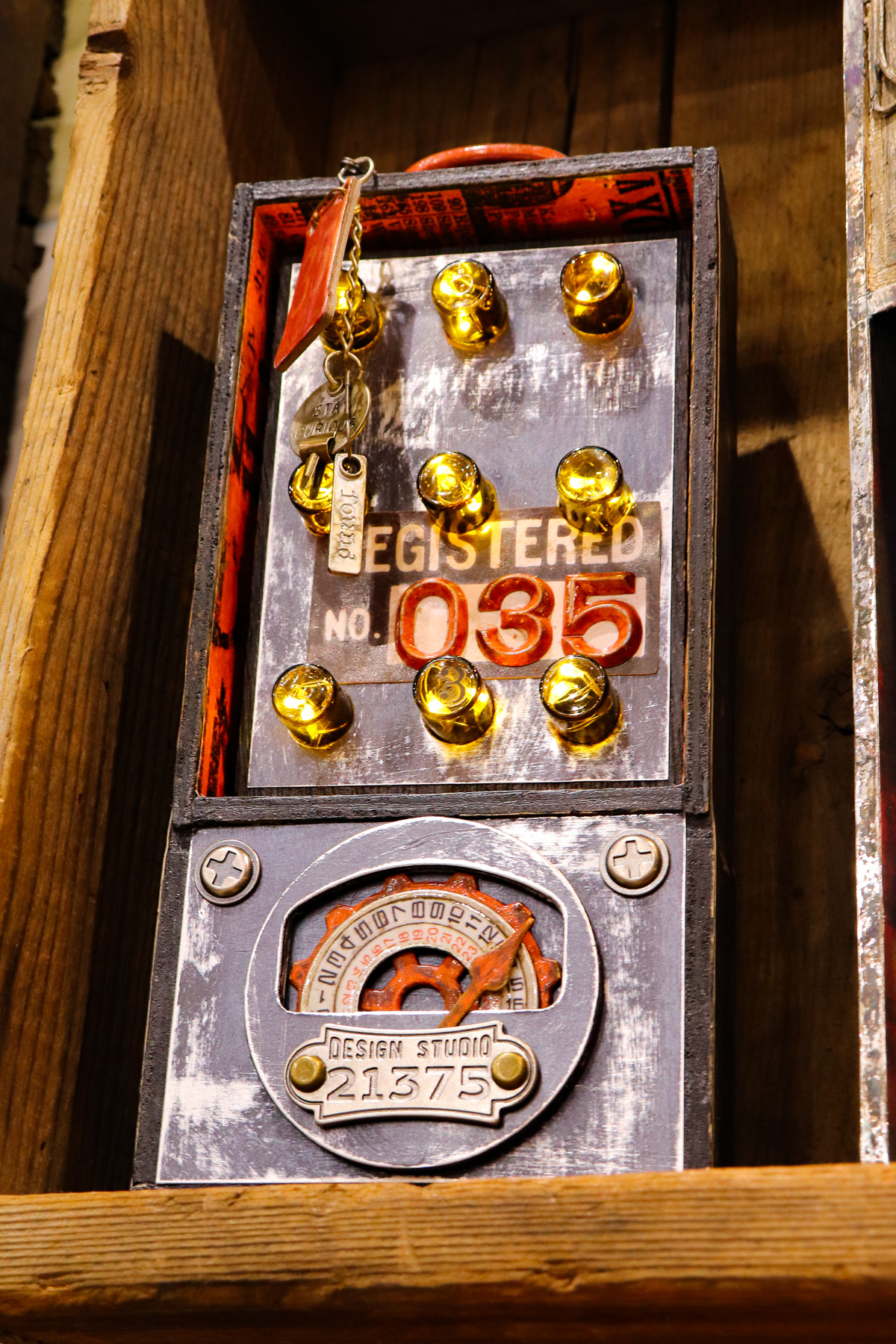 We're also beyond stoked about the new Utility Basket Storage Cart! There is something about a new year that makes us all want to get organized. :) The cart's on-trend style has us itching to fill these sleek baskets with crafty goodness!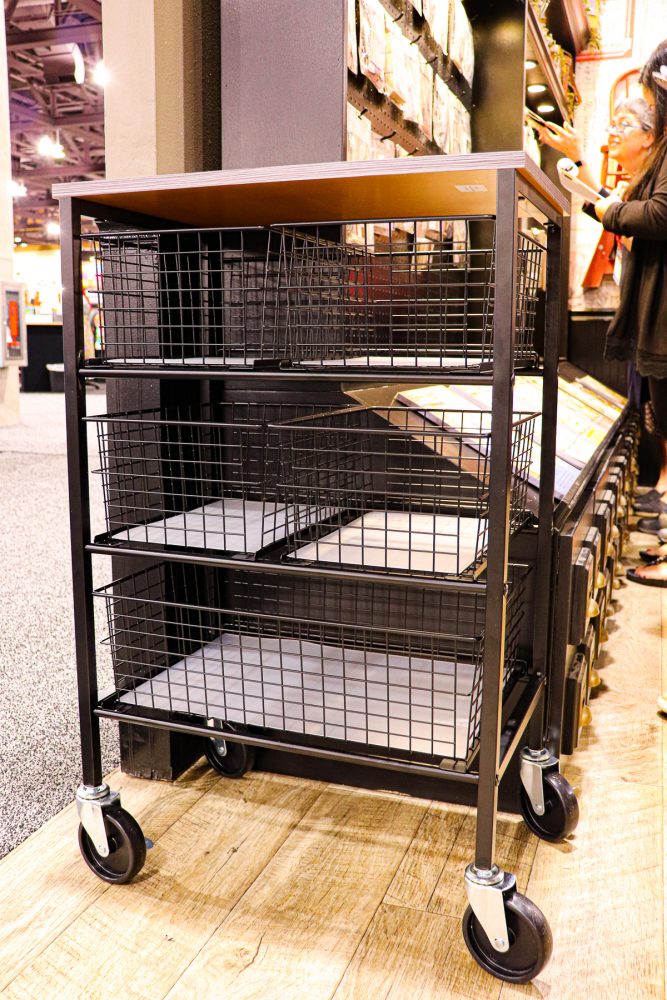 If you're looking to try out a new surface in your mixed media projects, the Fabric Journals really captured our attention! Check out how cool these journals look when adorned with some of Tim's latest greatest!
This year there is so much more to love from Tim's Distress line with Ranger Ink! Embossing powders are all the rage right now and the new Distress Embossing Glazes have caught our attention at the show! Check out what you can do with these powders (that coordinate with Tim's existing Distress ink line)! We also loved seeing Tim's demo of the Embossing Glazes!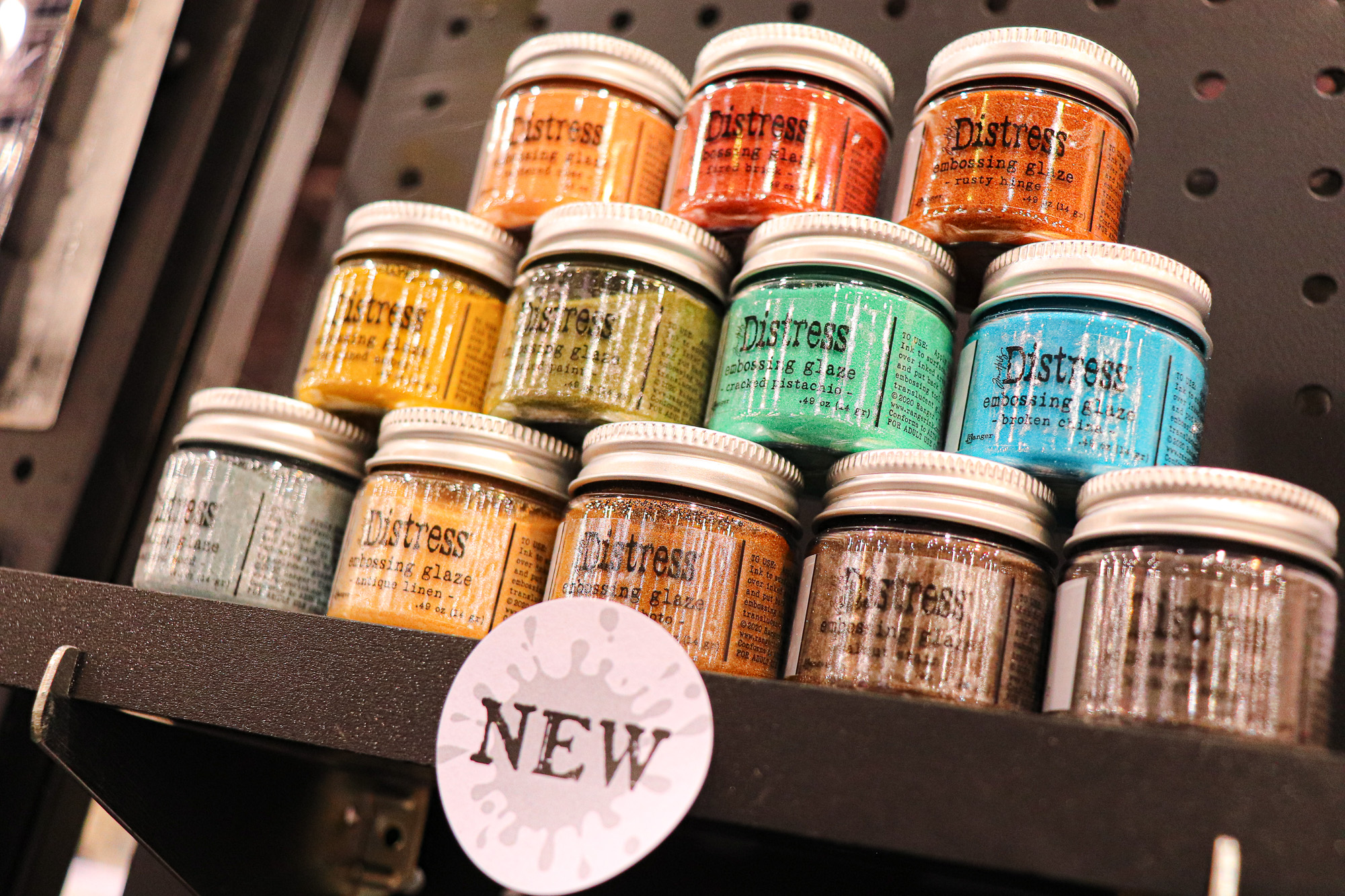 In addition to glaze powders, Tim also release some Texture and Grit Pastes that are definite MUST HAVES!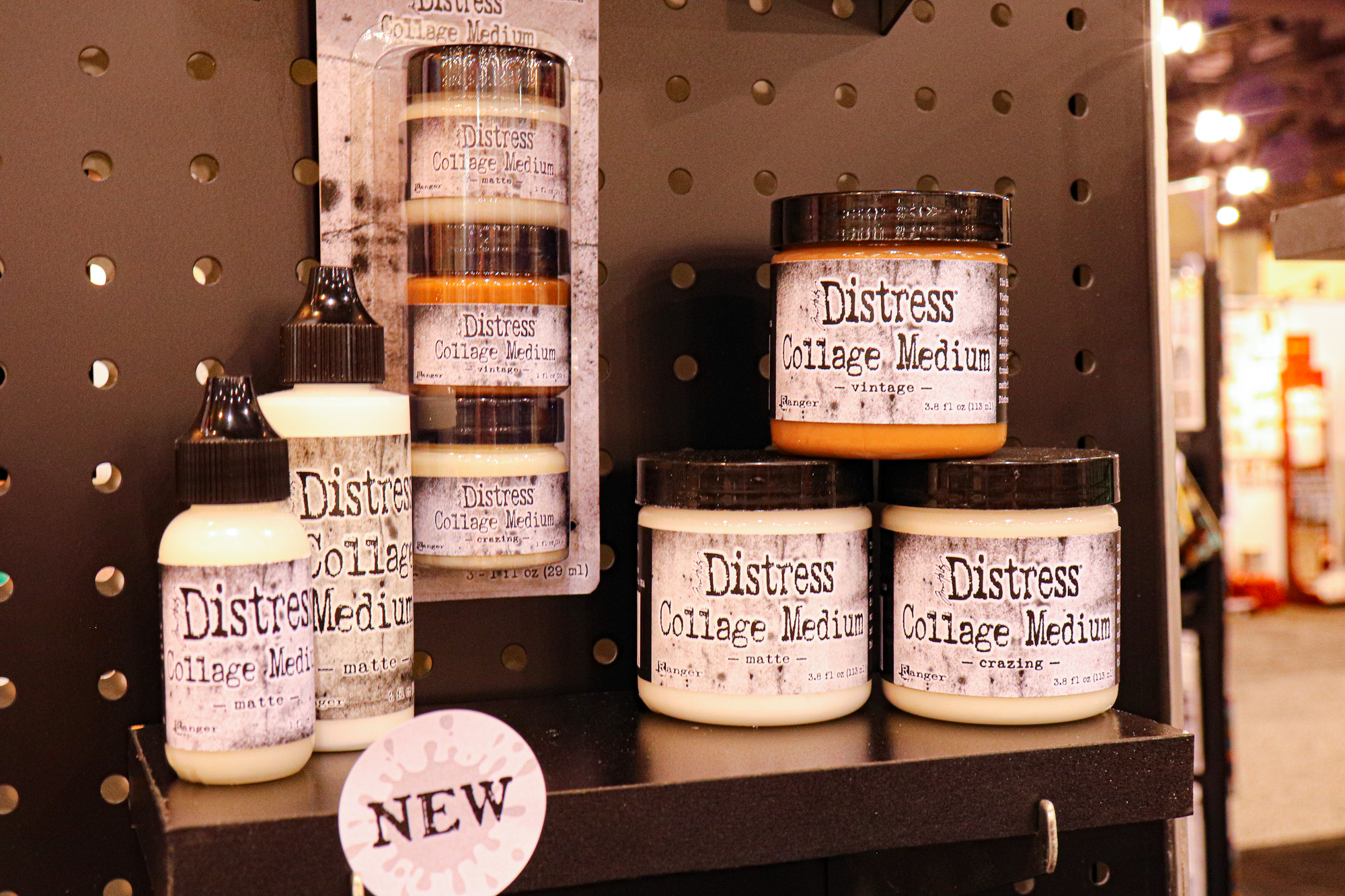 And to keep up the organization trend, now you can have a handy storage tin for your favorite Distress Ink or Oxide pads!!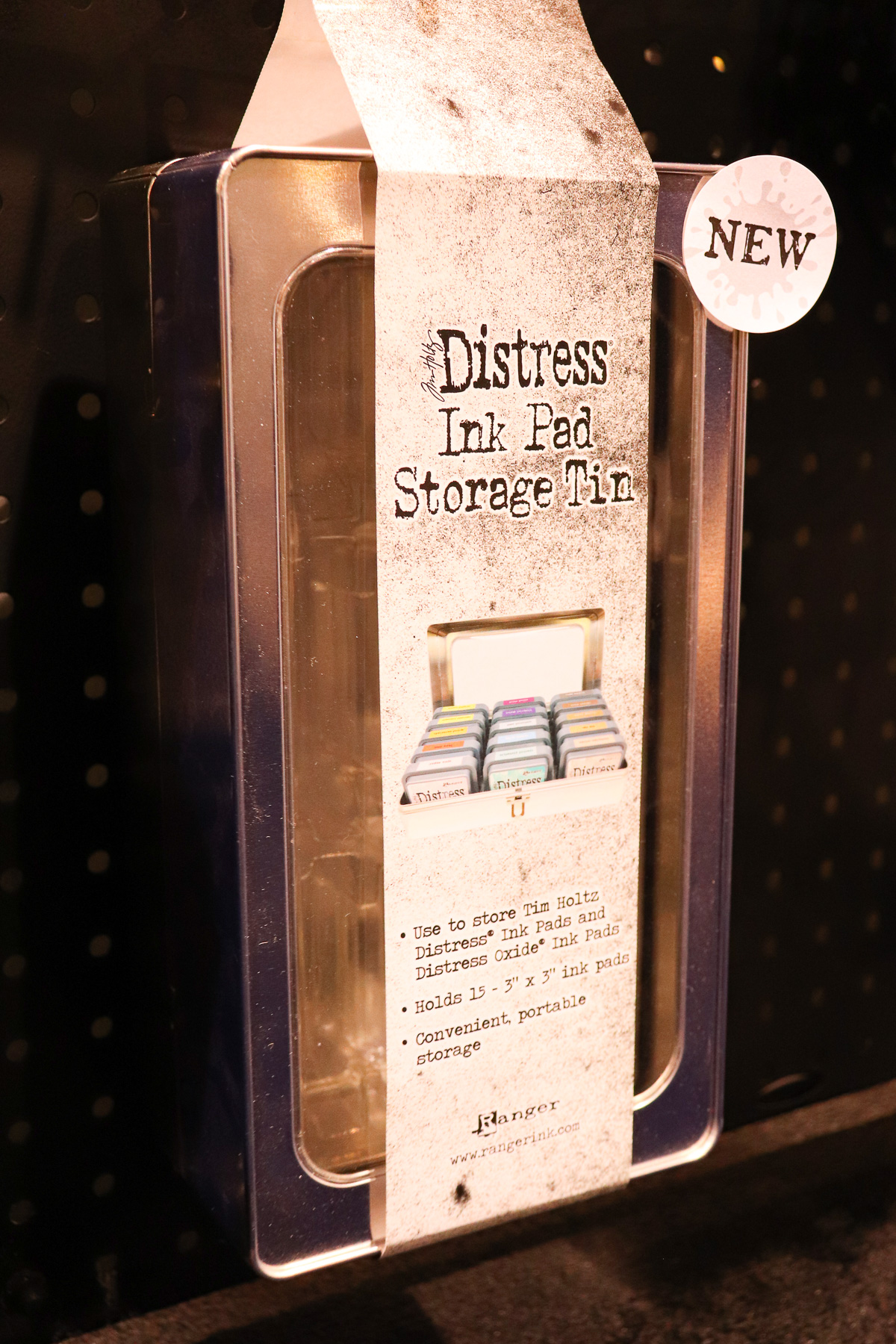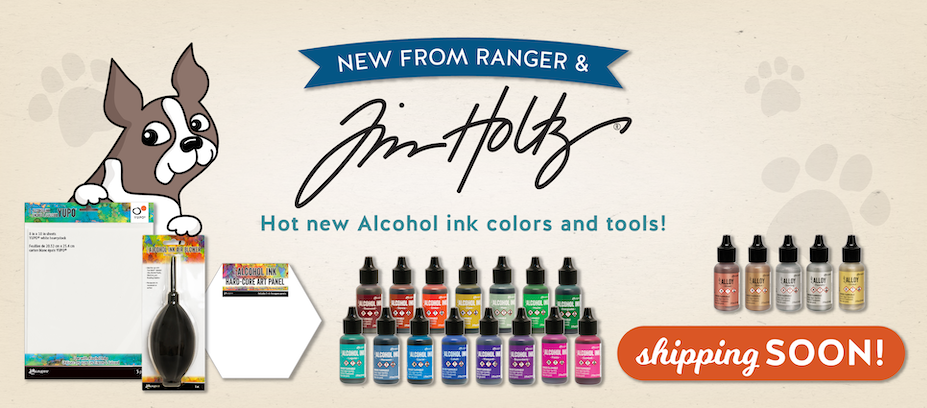 We weren't quite done over at the Ranger booth, because we still had to check out the new Alcohol Ink line up – and you won't be disappointed at the AMAZING new products we found there!
Fresh, new Alcohol Ink colors and Metallic Alloys were shining on all the inspiration in the booth! Can you see all those yummy colors on your next project?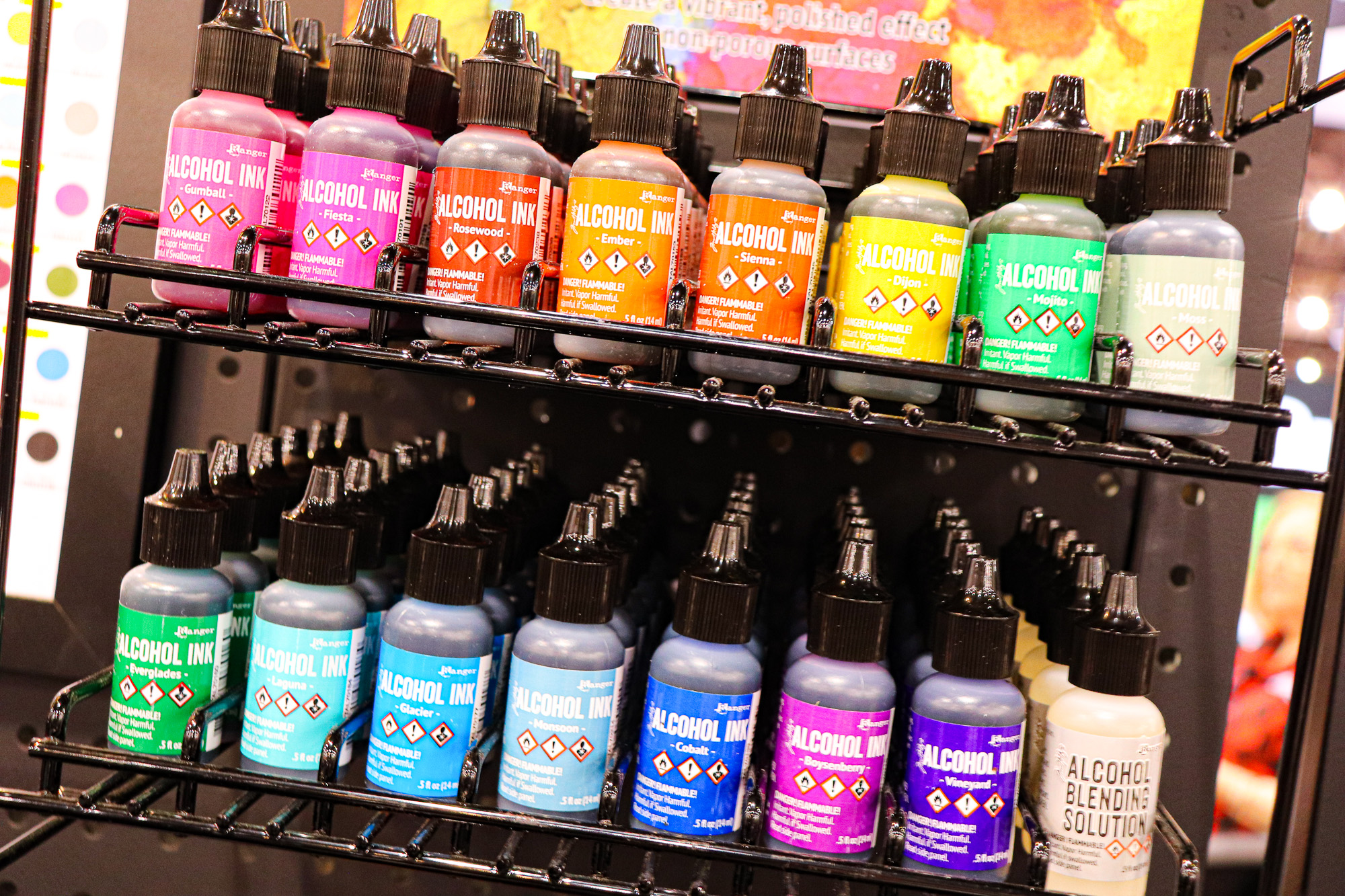 And not only are there new inks, but also new surfaces! New Yupo papers and a trendy hexagon Hard Core Art Panel displayed an array of gorgeous projects made with these new Alcohol Inks!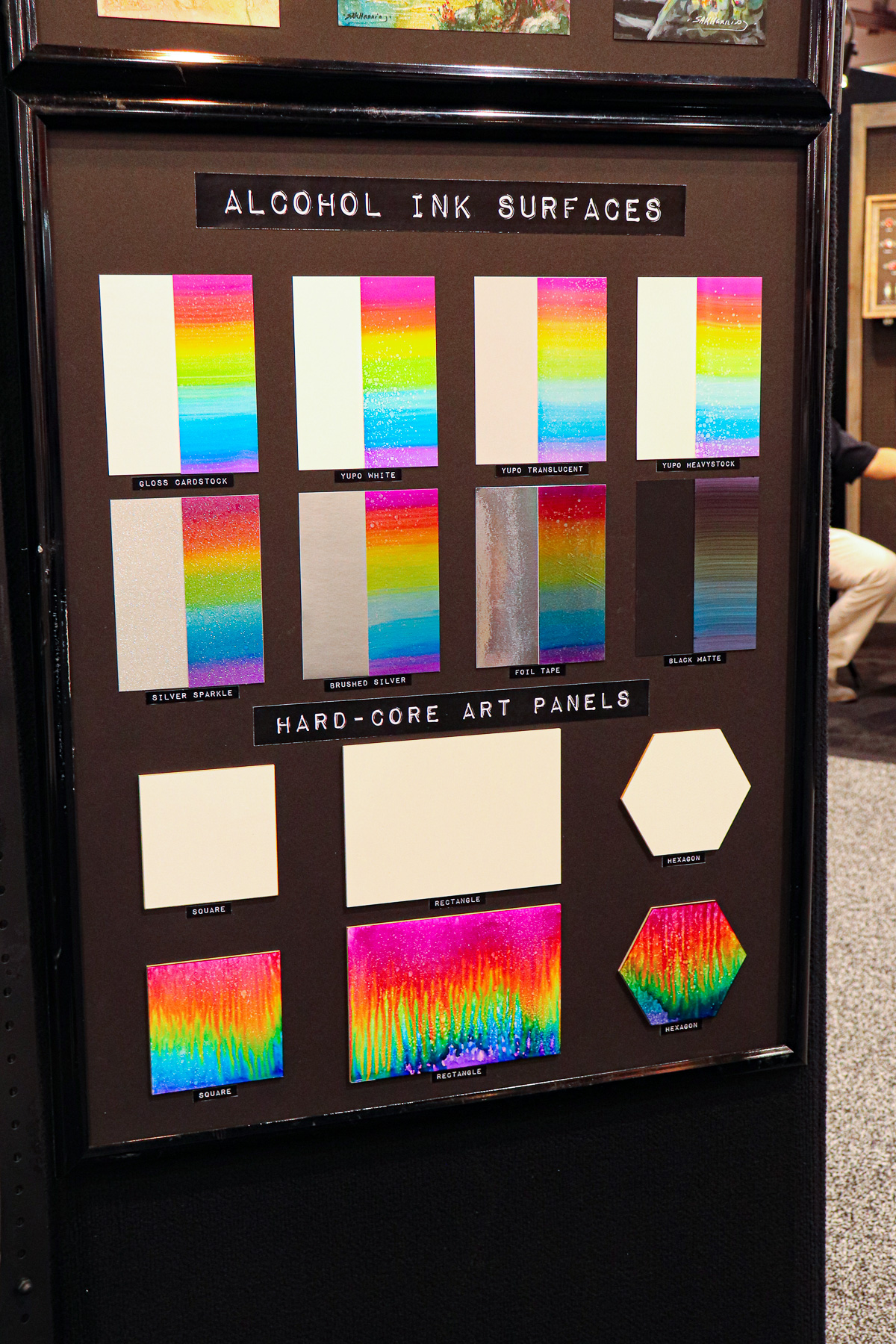 We spotted this awesome Alcohol Ink project… check out the way those inks and Alloys pair together SO well!!
Next we popped on over to the Stamper's Anonymous booth, where we were greeted with yet another overwhelming assortment of inspiration!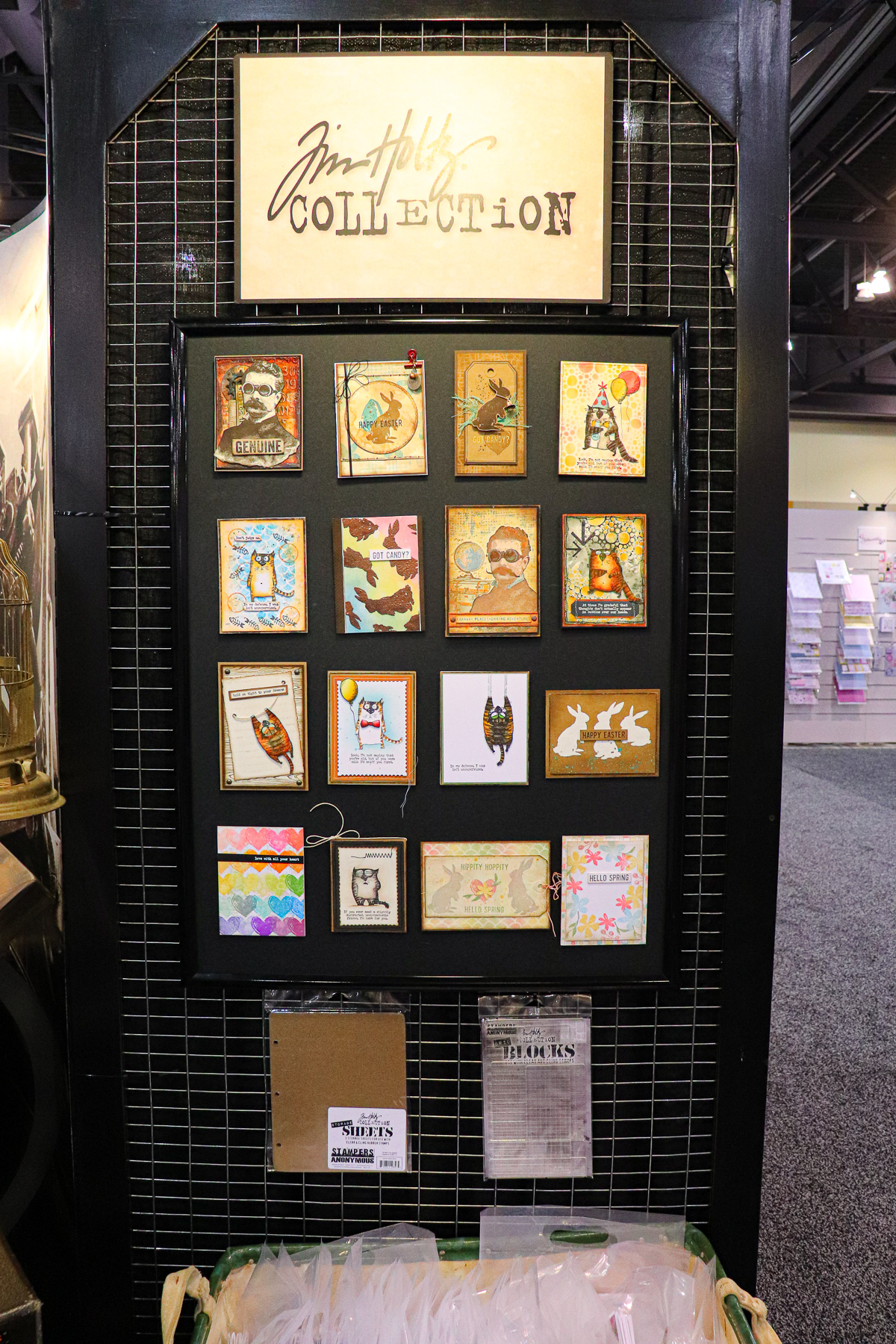 We saw cats and critters, oh my!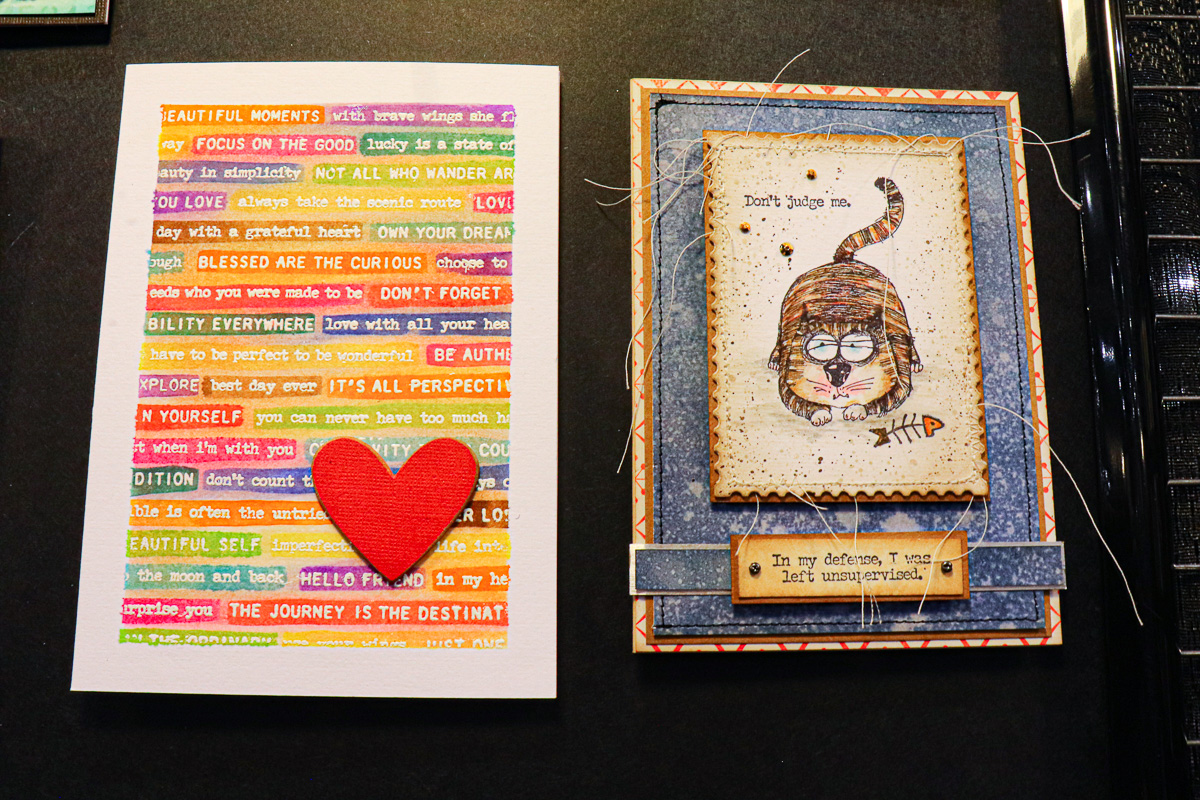 And the inspiration featuring the Professor harkens us back to another era…
We also found some great new stencils that will be PERFECT for layering as backgrounds and textures. We were especially taken by that trendy Scales stencil!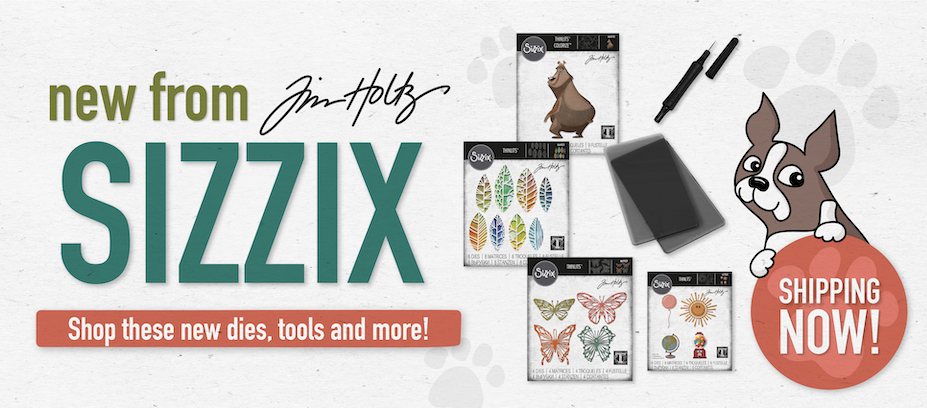 Tim's new line up of dies has us abuzz with creative ideas! We're especially loving the popular Theodore Colorize die set – how cute is he?!?! And check out his new friends, coming soon!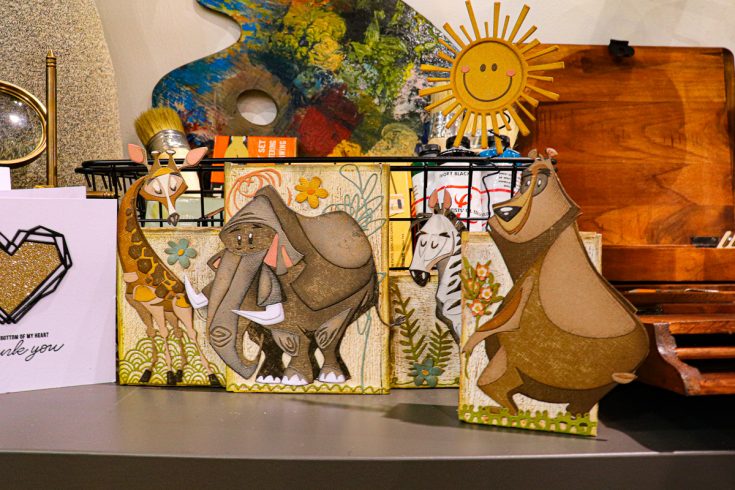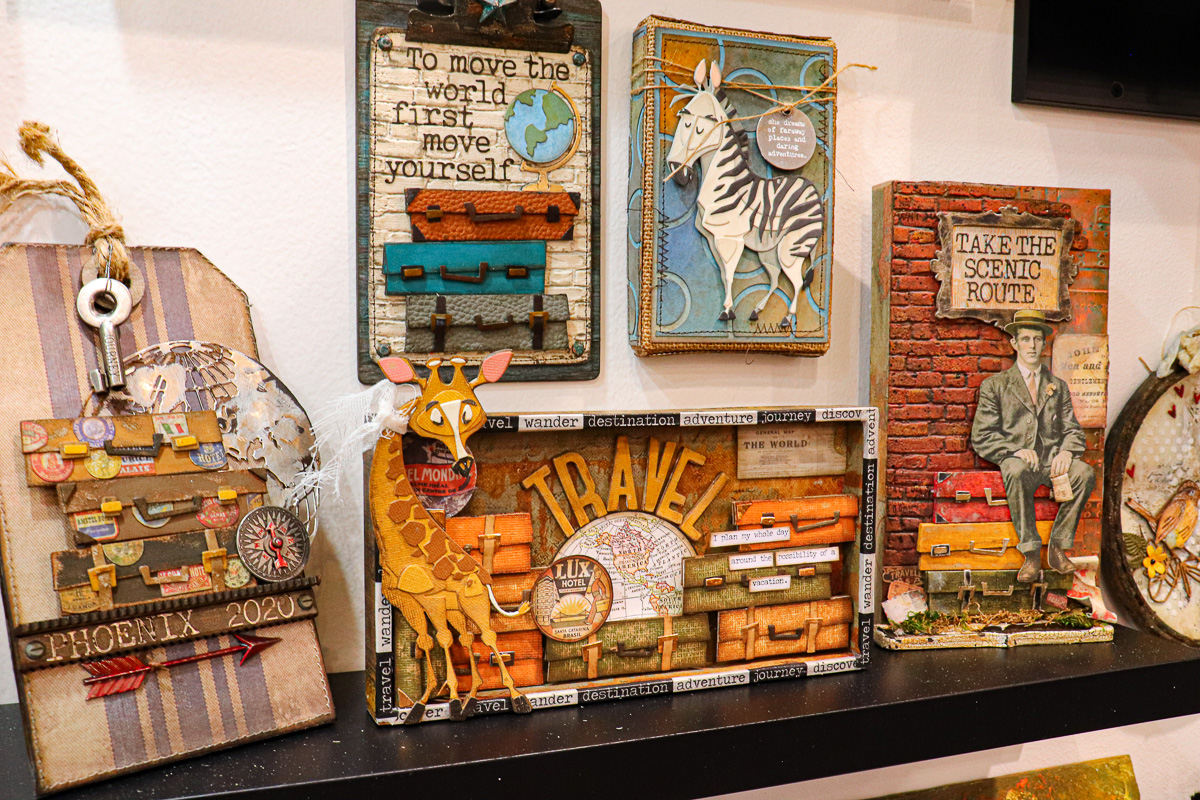 But not only Theodore, we also spotted these fabulous projects featuring many of the new dies in Tim's collection!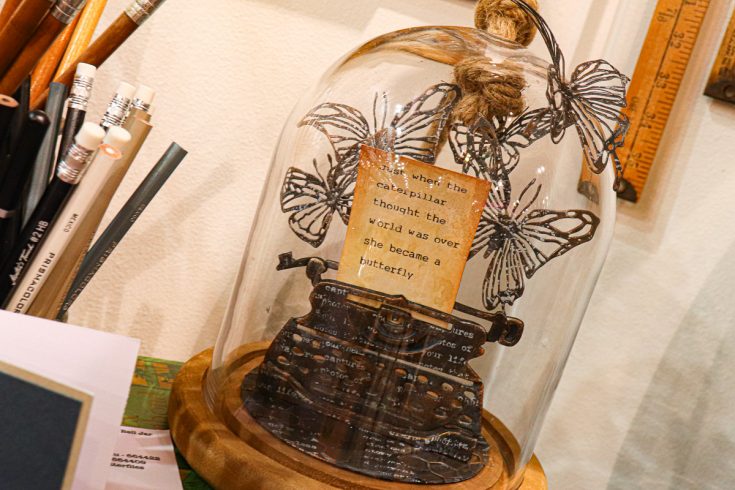 Don't forget that you can see MORE Creativation coverage on our Facebook and Instagram; we have an amazing Simon team bringing YOU the all the excitement from the floor to the comfort of your home!