A Personal Glimpse at the Team
Prep your pens, warm up your heat tools, ready your glitters, your stickers, and sequins! Keep your cardstock and your stamping blocks near, for Stamptember® is nearly here!  As you all settle in to your creative spaces and gear up for the upcoming month-long excitement, we at Simon Says Stamp are making many preparations.
Meetings, order-placing, conference calls, designing, and scheduling, oh my! Somewhere among all the hard work we've put in to making next month a total blast, we've somehow found some time to relax and unwind.  Now what better way is there to unwind than with a glass of wine!? (or perhaps a fine mocktail for any teetotalers). Here are a few snapshots of our Stamptember® kick off party to inspire you all, plus a bonus sneak-peek-behind-the-scenes look at the fun we had on Wednesday with the ALS Ice Bucket Challenge!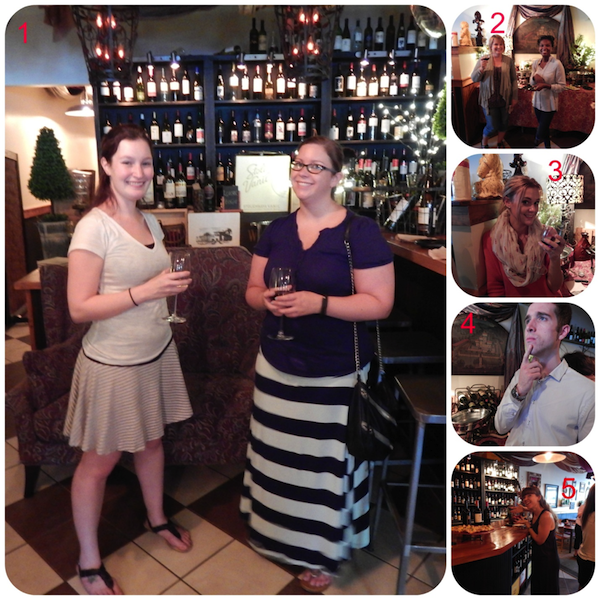 1.) Lauren and Sarah pose in front of a shelf that reminds them that there's plenty of wine to go around!

2.) Kirsten raises a glass of wine as Ashley munches on some delicious hors d'oeuvres.

3.) Samantha smiles and raises a glass of Cabernet Sauvignon.

4.) Phil thinks hard about which hors d'oeuvres he'd like to eat next!

5.) Renée channels her inner Vanna White as she presents our fine selection of wines and flatbreads.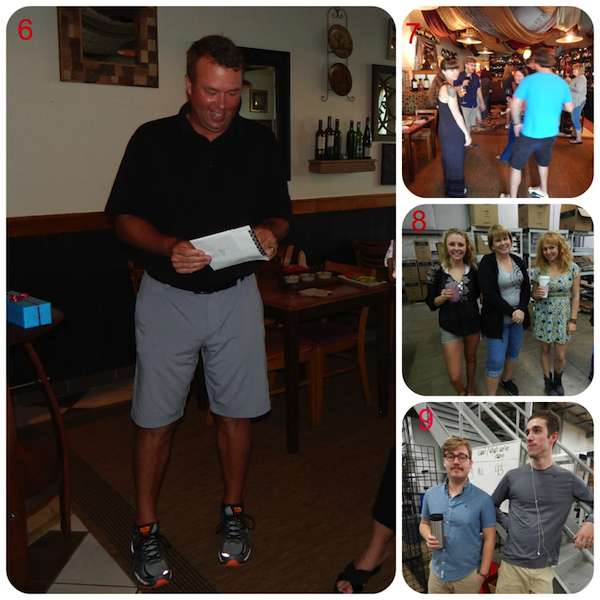 6.) The celebration continues as it was Jason's birthday! He smiles as he opens his card from the Simon crew.

7.) Renée looks over her shoulder as Kyle, Bethany, and Nate all mingle.

8.) Abby, Kirsten, and Emily smile as they hold their morning coffees and smoothies in order to energize before they begin picking, packing, and shipping all of your wonderful orders!

9.) Phil towers over Kyle and his morning coffee!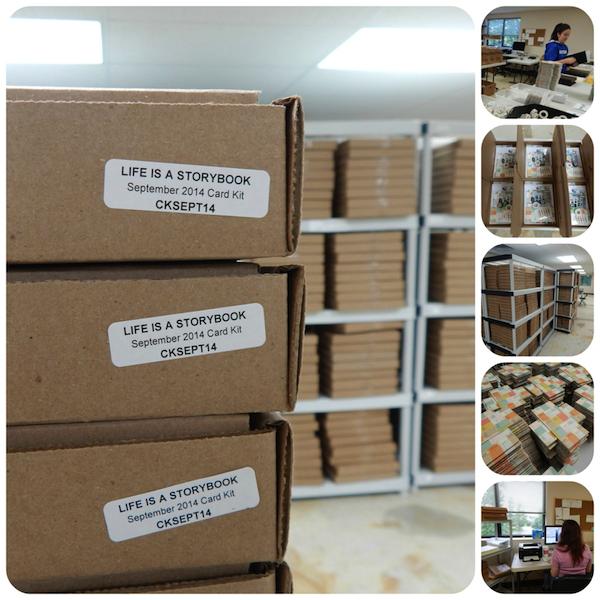 Left: Freshly labeled September card kits are ready for shipping labels! Top right: Crystal carefully assembles a card kit; chances are this girl had her hands on the card kit that made its way to your door! Second pic down: September card kits with all of their wonderful contents are ready to be closed up. Third pic down: ALL the September card kits that are ready to be labeled! Fourth pic down: October Afternoon cardstock is prepped for the kit! Bottom right: Lauren prints the seemingly endless amount of shipping labels for the September card kit!
As you all may have seen on our Facebook page, we were nominated by Jennifer McGuire to participate in the ALS Ice Bucket Challenge (if not, check it out here). Simon Says Stamp has donated $100 for every teammate that got iced! For more information on this challenge and ALS please visit the ALS Association's website here. Here are a few behind-the-scenes pics that showcase some more of the lovely faces that make up Simon Says Stamp that participated for the great cause!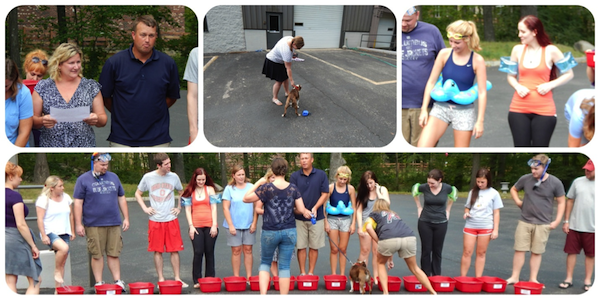 Here we are before the water and ice started flowing! Top left: Heidi nominates Memory Box, Paper Smooches, and Clearly Besotted to follow suit as Jason contemplates his impending ice bath! Top middle: Sarah gets Simon out of the ice-zone. Top right: Todd, Abby, and Niki don their water gear in preparation for what comes next! Bottom: we find our positions as Simon laps up some of the water to cool off!
The aftermath, or more accurately: the aftersplash! Top left: Simon is satisfied with the icy outcome. Bottom three pictures: We assess the wetness, pick up our empty buckets, and compare each other's sogginess.  Top right: Jen smiles her way to dryness.  Bottom right: Abby seeks warmth from her trusty beach towel.
We hope you all have enjoyed this glimpse into the world of Simon Says Stamp, and we can't wait to see you during the  month-long festivities of our fifth annual Stamptember®!