A Patchwork of Possibilities
Hi readers! Happy National Scrapbooking Day! We're pleased to have one of our own design team members from our Monday Challenge as a guest designer today. Please help us welcome, Ashli Oliver! She's sharing with us a very special moment that she scrapbooked, and the way she interpreted her own style into the pages.
Enjoy!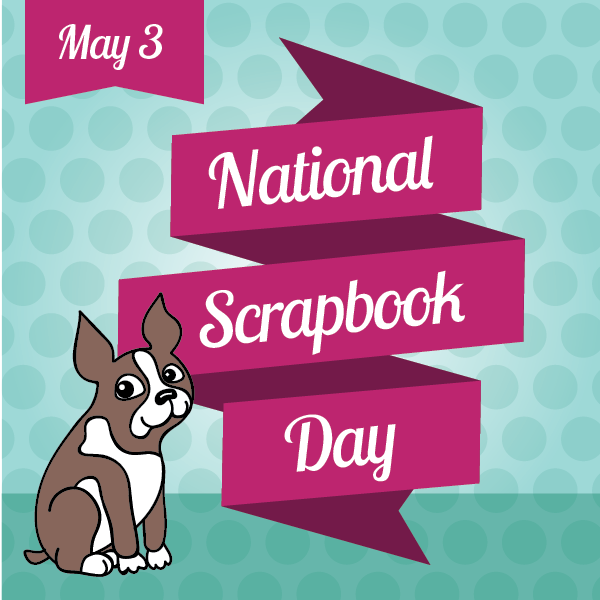 Hi there! Ashli Oliver here to share some of the many possibilities with the gorgeous Simon Says Stamp Exclusives. (Please see a complete supply list below)

One of my favorite go-to designs for a scrapbook page is an "informal grid"… a loose structure in which to dot bits and pieces around the page. A bit of a patchwork, if you will…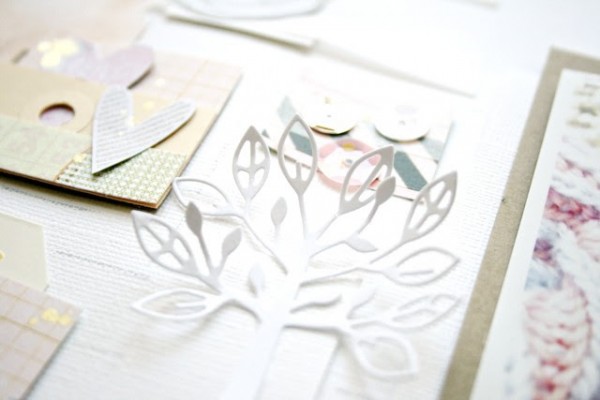 This technique is also the perfect way to unify items that otherwise are seemingly too different to pair together.

Take for instance, some of the gorgeous dies and stamps that I have put into use today…a doily, a tree, a vine, a set of title words, roses, hearts, clouds etc…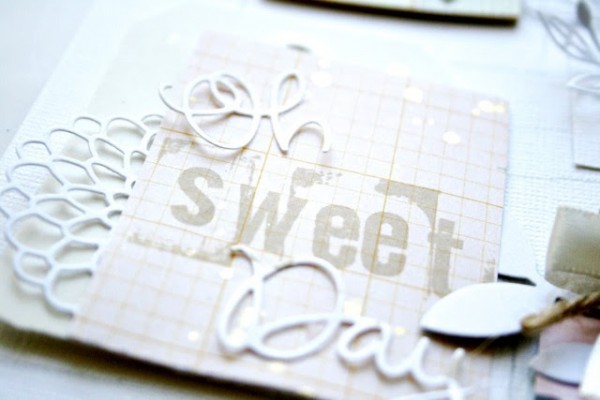 When combined into a loose and informal grid, they work together to create a lovely and dynamic composition…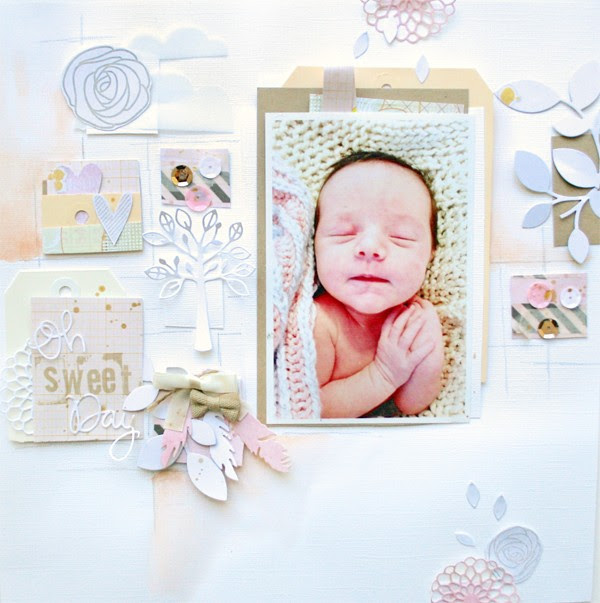 …perfect to journal the story of our baby's name in the pocket behind the photo!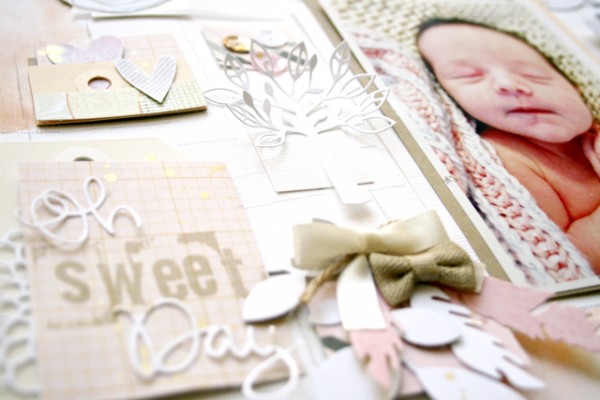 Now, let's take that idea a step further, shall we? After completing the above layout, I had lots of little die cuts left.

I wanted to make good use of them and also play with some mixed media…

Here's the step by step:

1. Randomly collage all of the leftover bits onto a sheet of cream card stock, using matte medium to adhere.

2. Once the matte medium is dry, cover the entire surface with a wash of gesso or white paint.

3. When that has mostly dried, add in some watercolors and/or mists in the colors of your choosing. I chose soft blues, pinks, and oranges.

4. Allow to completely dry.

5. Using scissors, or a paper trimmer, cut out random rectangles and squares from your dried sheet of collaged and mixed media fun!

TA DA!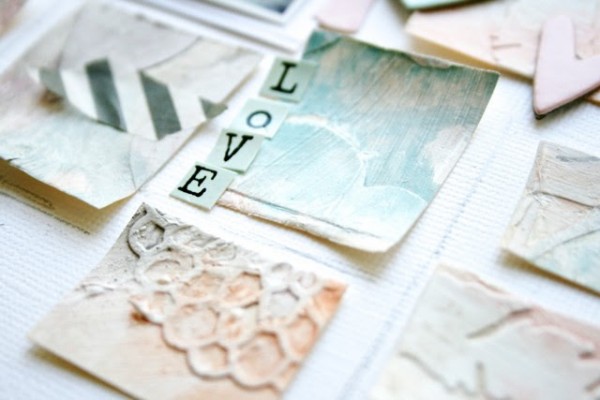 The different shapes, lines, and textures that this creates is unexpected, fascinating, and really can not be achieved any other way!
Plus, when all of those bits are arranged in yet another informal grid, we have instant composition and page design that needs almost no additional embellishing!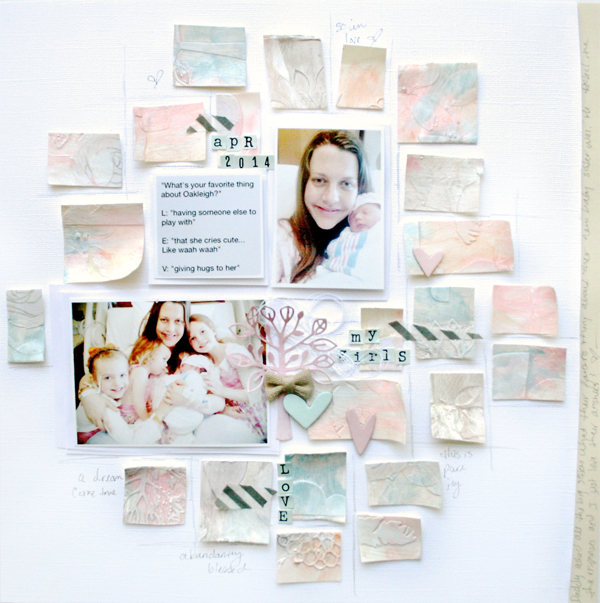 And guess what? Once again I found myself with leftover pieces…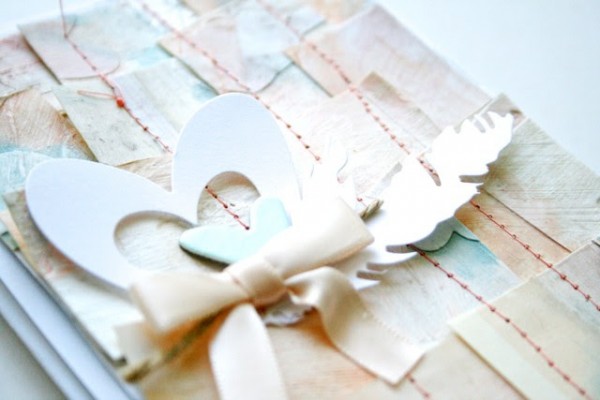 I can't let those go to waste! Layered up and stitched down… we have an instant card!
I hope this has inspired you to grab some of the amazing SSS exclusives and put them to use. As you can see, there is a patchwork full of possibilities!

Thanks for joining me!
SUPPLIES:


Thanks for reading today and thanks to Ashli for providing such gorgeous inspiration!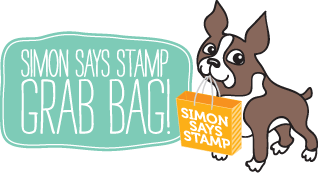 Blog Candy Alert!! Follow our blog via email and comment on this post for a chance to win a special blog candy!
Note: Next week we will be announcing LOTS of lucky blog candy winners! Be on the look out! :)