5 Ways to GIFT a Gift Card!
Hello crafty friends! It's Nina-Marie back again this week sharing not just one, but FIVE fun ways that you can use simple supplies to create, beautiful, quick and easy packaging for your all your gift cards!
With the holidays fast approaching, I am sure you have all been starting to think about your Christmas shopping (or maybe you've been shopping already!); either way, you probably have a few people on your list who's "perfect gift" is a small piece of pretty plastic… gift cards! Why not make them a bit more special and have that personal touch by creating your own gift card holders? You could even use these ideas for actual money too if you aren't giving an actual gift card. I hope that today's ideas and videos will serve as inspiration for you to add a bit of holiday beauty to those little gifts!
IDEA #1: DECORATED MINI ENVELOPES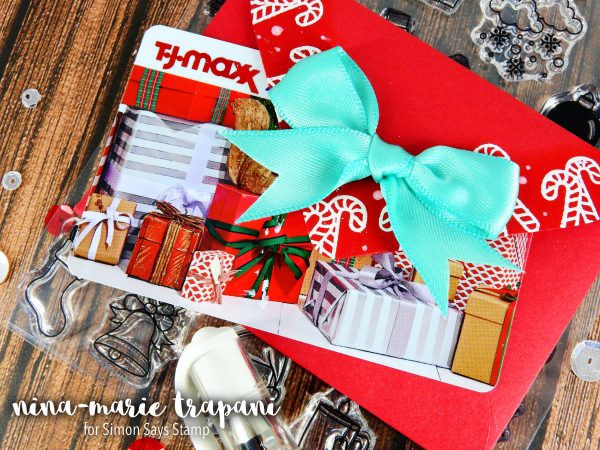 This is probably the simplest of all the ideas I will be sharing today; decorating an envelope to slip your gift card into is both cute and fun; and it's made even more simpler by using the perfectly-sized gift card envelopes from Simon Says Stamp! Did you know Simon has released four new envelopes that are sized exactly to fit a gift card? I love them (my favorite is the Schoolhouse Red envelope)! You can find them all HERE in the Simon Says Stamp shop.
I heat embossed the candy cane images using Simon's Advent Holiday Icons stamp set and added a bit of extra detail using a white gel pen. The adorable teal bow creates the perfect contrast against the rich red tone of the envelope; teal has been one of my favorite colors to use with red this holiday season.
Be sure to check out the video for this idea below!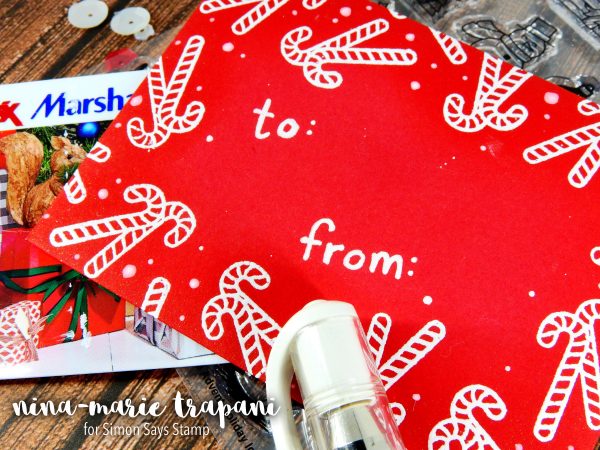 SUPPLIES
IDEA #2: MATCHING CARD & ENVELOPE SET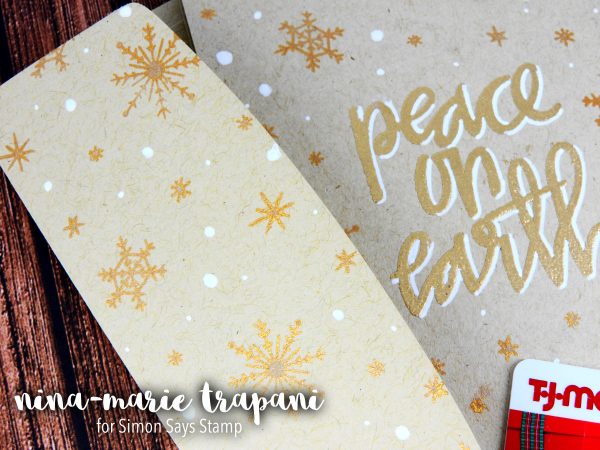 If you want to take the envelope idea a bit further, there's nothing more perfect than a card & envelope set! This was a fun one to make… especially with the help of some of the fabulous items included in the Simon Says Stamp Limited Edition Card kit! The kit is sold out at this point, but most of the items are available for individual purchase on the Simon store (YAY!).
One of the items I used from the kit, was the Swell Christmas stamp set. I wanted to pair the snowflakes from the set with the whimsical Hand-Lettered Christmas stamp set from My Favorite Things. These two are like a match made in heaven! To build my gift card holder, I used the Sunny Studios Crescent Tag Toppers dies. While these are technically meant to create tags and labels, they are PERFECT for making little notches into your paper that a gift card can tuck into! Take a look…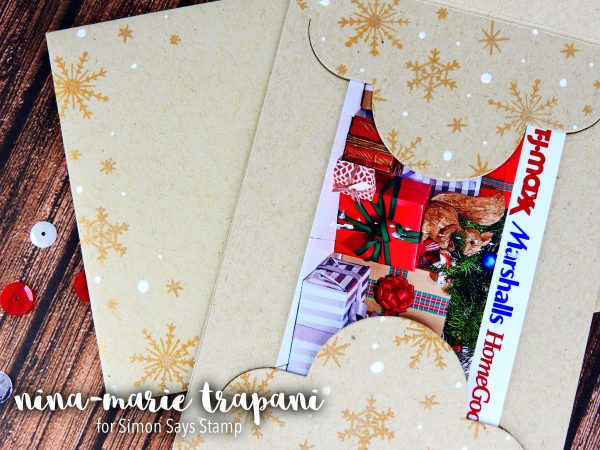 Cute, right?? To see how easy this is, make sure you watch the video below!
SUPPLIES
IDEA #3: FESTIVE GIFT CARD TAGS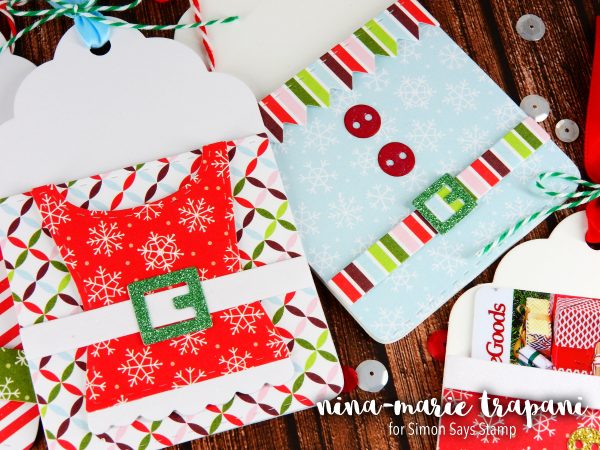 We all love the beautiful pattern papers that get released each year; we hoard buy them like crazy, dreaming up all the fun projects we plan to use them on. This next gift card holder idea is one of those fun projects! I LOVE how this Trim the Tag die set from Taylored Expressions helps you create the most adorable little outfits to decorate your gifts perfectly. What is even more awesome about this die set is that with just some strategic placement of adhesive, you can turn these tags into gift card holders!
I used Taylored Expressions' Holiday Playful Patterns paper set and die cut the pieces needed to build not only a Santa's outfit, but also Mrs. Claus and even an elf (too. stinkin. CUTE). These were very easy (and addicting) to put together! I only intended to make one when I initially started out in the video, but I had so much fun I made five… and could have kept going! I think there are many ways you can present these to your recipient: hanging from the tree, attached to a wrapped package, tuck into a stocking, or even mailed in an envelope to a loved one who is far away! I know they would make ANYONE smile!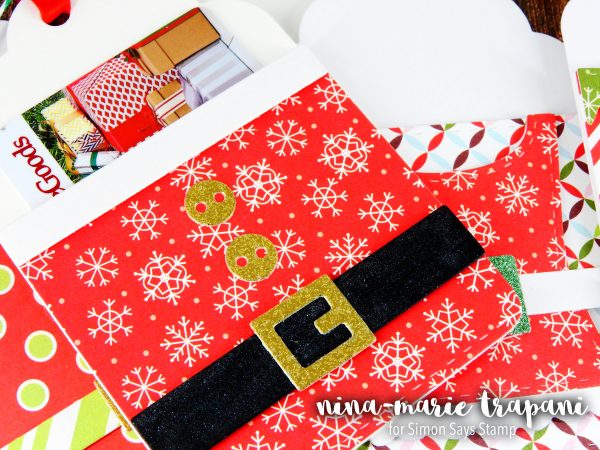 I hope you'll check out the video below and see for yourself how much fun these gift card holders are to make!
SUPPLIES
IDEA #4: SHAPED GIFT CARD TAG & BELT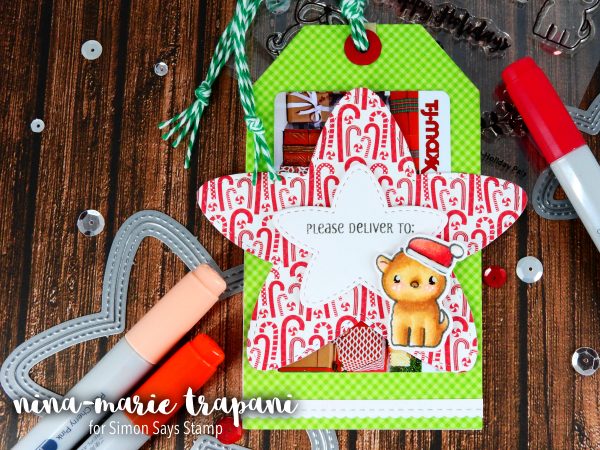 Speaking of tags, another cute gift card idea is to create a variation to the "belly belt". I'm sure most of you have heard of belly belts; the paper wrap that slips around a card? Same kind of idea we are going for here, except this is going to hold down a gift card to a tag!
The tag I used here is from the Hero Arts Nesting Tag die set; I used the largest of the tags. I paired it up with the adorable Stitched Star dies from Pretty Pink Posh as well, which is what acts as the "belly band" and holds the gift card. This is super easy to do (you'll be surprised at how quickly this comes together!).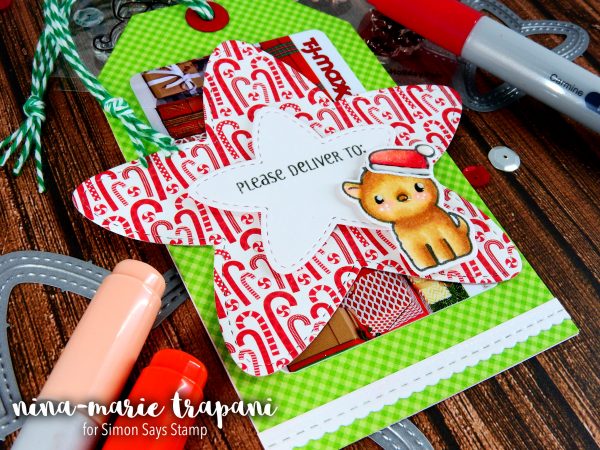 I decorated the tag with pattern papers from Doodlebug, and the cat image is from Pretty Pink Posh's popular Holiday Pals stamp set! I really enjoy how well Pretty Pink Posh's products pair up, not only with each other, but also other companies products. It makes them even more versatile!
Be sure to watch the video below to see how this tag come together!
SUPPLIES
IDEA #5: PARTIAL DIE CUT ORNAMENT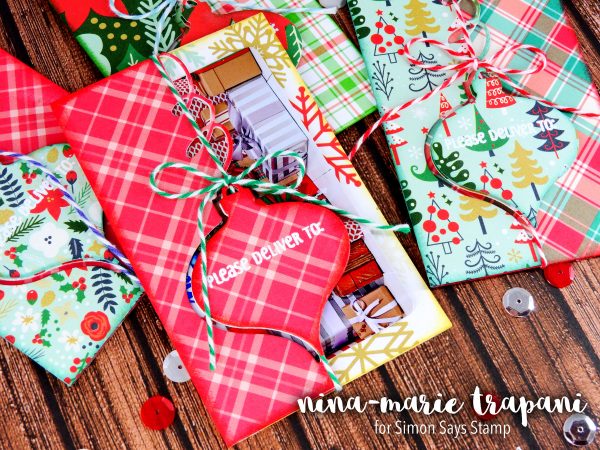 Have we really reached number five already??? I enjoy a good intricate and unique die set and the Simon Says Stamp exclusive Peyton Ornament die is no exception! This one was released during STAMPtember and I LOVE how not only is it really clever, but also the detail! Oh my my… just perfect. Did you know that it also makes a great gift card holder?? YES!
I paired it up with pattern papers from both the Lawn Fawn Perfectly Plaid Christmas and Echo Park Deck the Halls paper collections. These two collections are absolutely stunning together; even the colors are great matches!
With just some simple die cutting techniques (and again some strategic adhesive placement), I was able to create quite a few of these gift card holders in just a couple hours! Like the Santa's tags I already shared, these I could have made over and over again, they were that much fun to put together. I added little details, such as a bit of baker's twine and a stamped sentiment to finish these off. Because of the beauty of the die itself, and the pretty papers on top, you really don't need do too much to these to achieve a gorgeous result!
To see these cards in action, be sure to watch the video below!
SUPPLIES

I hope all of these ideas inspired you today! Thanks so much for stopping by and spending the day with me!
Don't forget, we have a Blog Candy Alert!! Follow our blog via email and comment on this post for a chance to win grab bags and blog candy! Remember to tag your awesome projects with #simonsaysstamp on social media so we can see what you are creating!