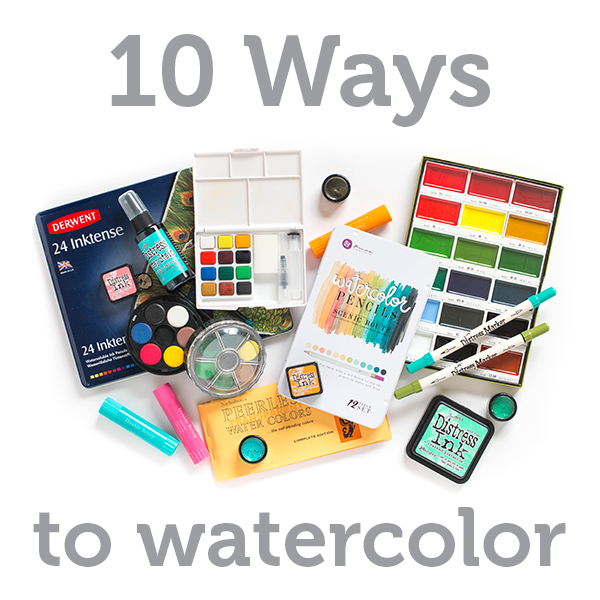 Hi everyone, it's Shari here with 10 Ways to Watercolor! Have you been confused as to "what to try" when choosing items for watercoloring? I'm here to help you with a few tips and different types of items that are great to use to get your desired effect.
I'll break the different types of watercolors down into groups:
Dry Paint Pallette
Watercolor Pencils
H20's
Gelatos
Peerless (dry paper)
Sprays
Inks (2 ways)
Markers (2 ways)
Other important items are brushes and watercolor papers.  For paper, I prefer the Tim Holtz Distress watercolor sheets for making cards. It is a true white paper and is cut 4.25″ x 5.5″. For larger projects, another great choice is Strathmore Cold press Watercolor paper 8.5″ x 5.5″.
Brush types can vary not only in size but also round, flat and type of bristles. I have two favorite brushes types that I use all the time, both being from Ranger. The first is the Studio Artist brush set. There is every size I need including wide flat brush for background washes down to super small for painting fine details. My other favorite is the Tim Holtz  Detailer Water Brush with it's amazing water reservoir! This brush can be filled with Distress Sprays, used to activate watercolor pencils and also for standard painting.
I've created a card using some of the sprays and inks that I show in my video where I've sampled different watercolor types.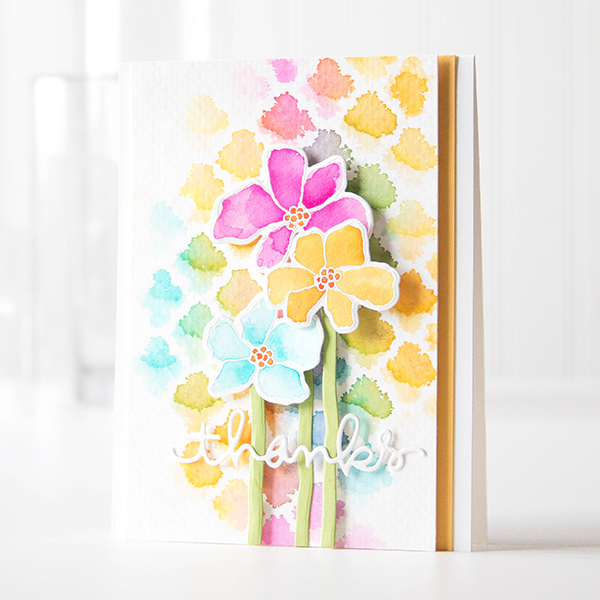 And created a quick watercolor background using inks and the Moroccan Background stamp. I love how the inks mix on the paper to form new color.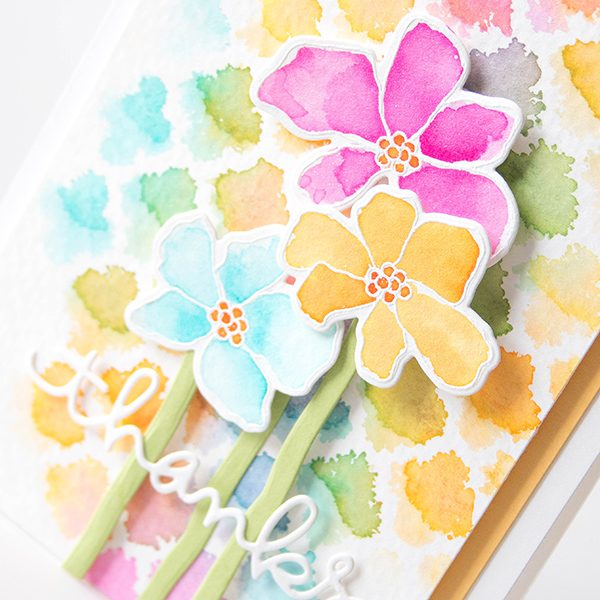 I've put together a video using the types of watercolors that I have and how I use them for painting in a small flower stamped image plus a quick background for my card. . You can view the video below or on our YouTube channel.
There is another watercolor medium that I did not cover, being liquid or tube watercolor paints. Simon Says Stamp has a several sets available: the first being Sakura Koi (12 colors), the Grumbacher Acedemy (8 colors), the Windsor Newton Cotmon (6 colors), the Windsor Newton Cotmon (12 colors) and finally a nice little travel set the Royal Langnickel Keep and Carry set (6 colors). These paints are highly concentrated paste that you would squeeze out onto a pallet and use with water. They are very blendable and transparent, you can let them dry on your pallet to regenerate later with water as you would a dry pallet paint.
Blog Candy Alert!! Follow our blog via email and comment on this post for a chance to win a special blog candy!
I hope I have given you information on the types of watercolors available and how they are used to make your selections easier.  Have a great weekend!
Card supplies:
In my supplies below, I have listed complete sets on some items, please know you can shop for individual items to suit your needs.
Watercolor Supplies: