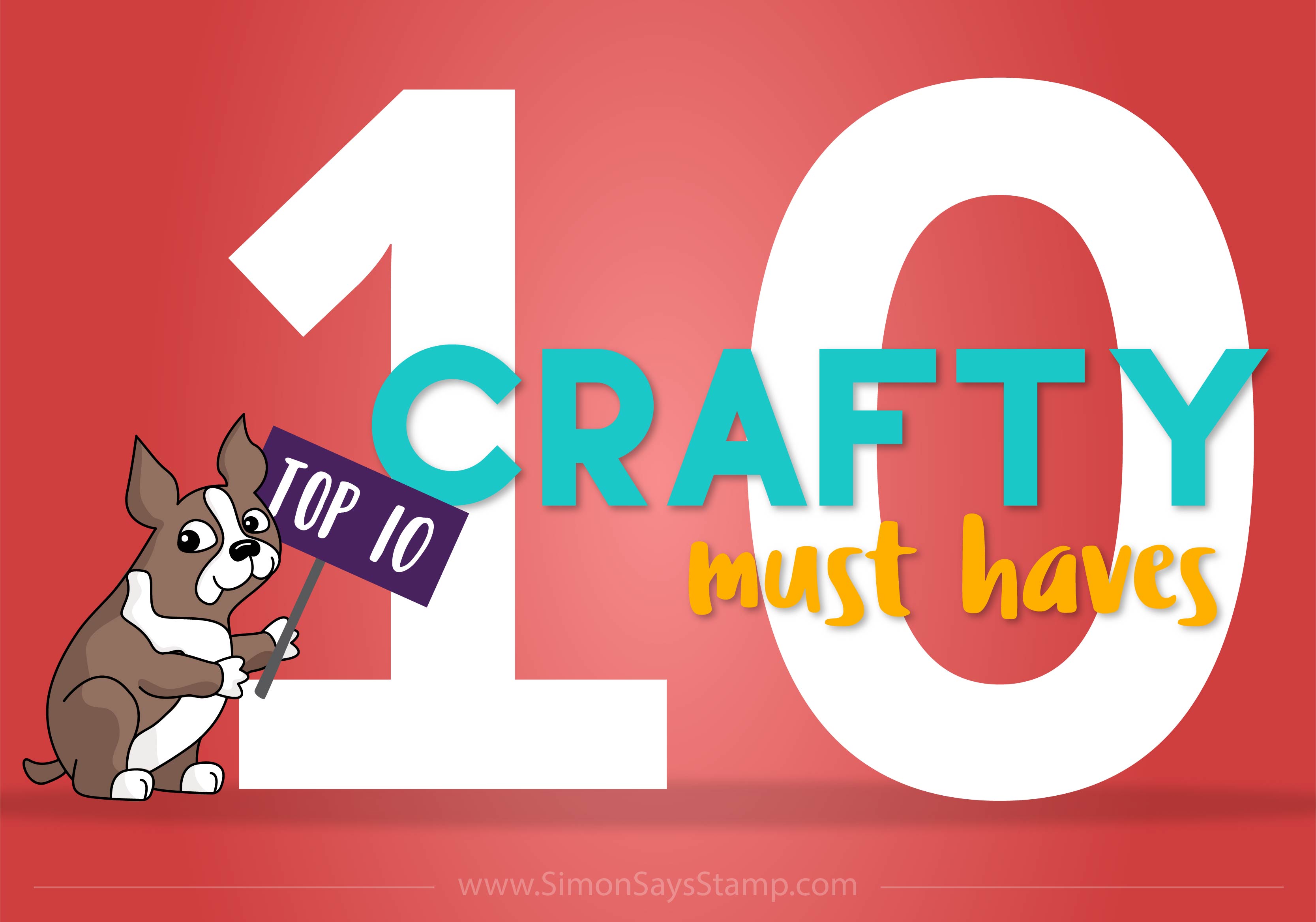 Hello friends, its Nina-Marie here with you! If you love discovering new tools and fun products, then today's post is for you! I am sharing our Top 10 supplies that are MUST HAVES in your craft space. From ink and scissors to glitter and sequins, you are sure to find something here that you love too! For new crafters, this should also be a good starting point for learning more about supplies you will want to add to your supply stash.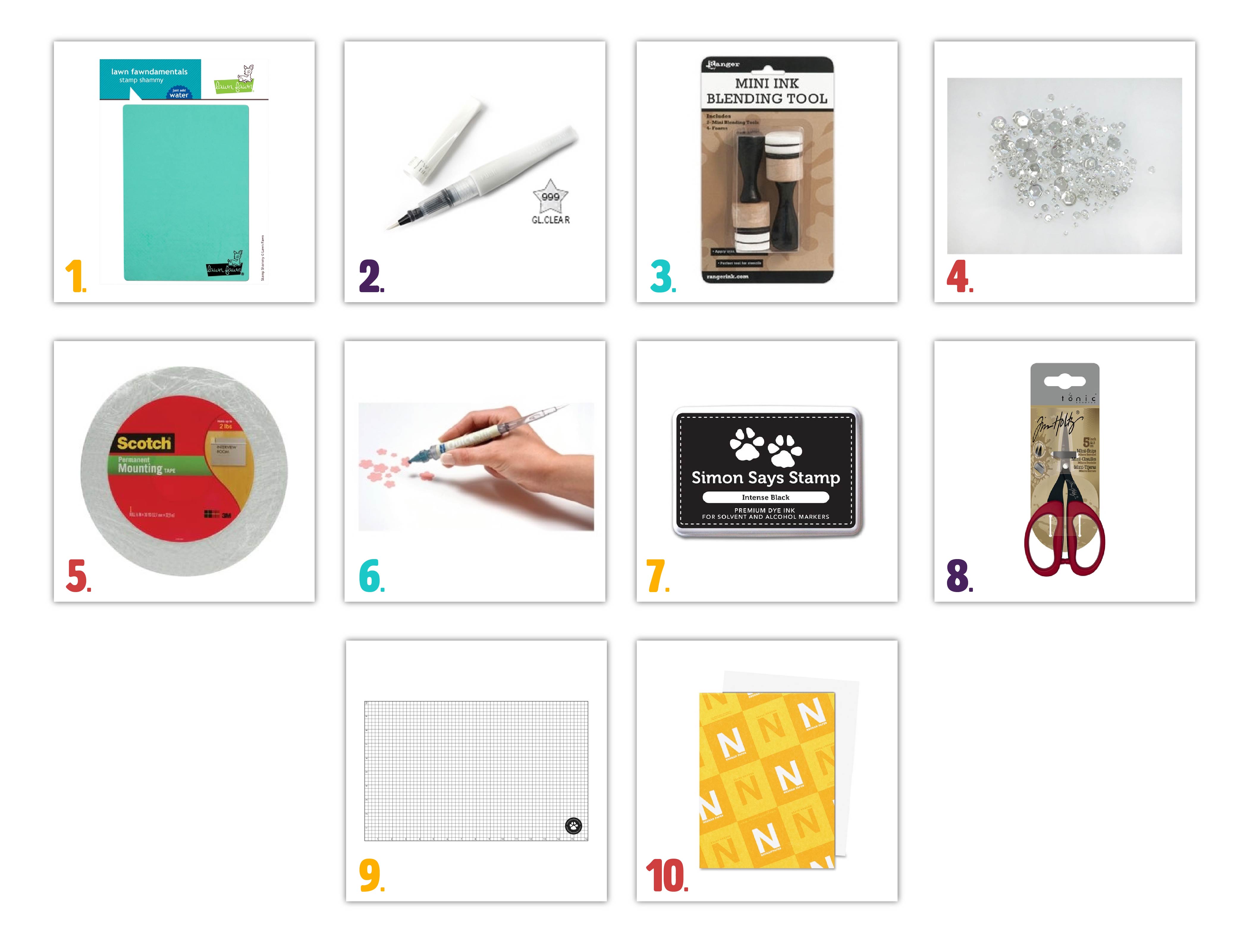 1. LAWN FAWN STAMP SHAMMY: This brightly colored cloth is perfect for keeping your stamps nice and clean while working on a project! It is reusable and does not require any special cleaner; all you need is a little bit of water! Having a reusable cloth allows me to conserve on baby wipes and specialty cleaners, which is both wonderful and cost effective. The Stamp Shammy will stain as it is used, but it will not effect how well it cleans your stamps. I personally use a Stamp Shammy for cleaning my stamps and love how convenient it is!
2. WINK OF STELLA CLEAR GLITTER BRUSH: Do you love glitter? I sure do! One of my favorite ways to add some sparkle on my cards is with this gorgeous glitter brush. The glitter is a clear shimmer, which makes it perfect for using over any die cut or stamped imaged. Another great feature about this brush is that you can refill it with water once the brush has gone dry. Usually there is a lot of leftover glitter in the bottom of the brush's barrel, which can be reactivated by adding water. I have been able to refill my glitter brushes twice without noticing any change in the output of shimmer.
3. RANGER MINI ROUND BLENDING TOOL: Ranger is well known for their innovative crafting tools; one of my favorites are the Mini Round Blending tools. These blending tools are small enough to work with any size ink pad, including mini ink pads. This makes them extremely versatile. With the help of the round sponge pad, you can achieve great blending on your papers using a variety of different inks. The coordinating sponges last a very long time and can be removed or replaced onto the applicator at any time! I have about 6 applicators and I use a foam sponge for each color family. You could have more applicators, but I have a small studio. Because of that, I find having just a handful works perfect for me. Since the foam sponges can be interchanged so easily, I don't mind swapping out sponges for a different color if need be.
4. SIMON SAYS STAMP MOONSHINE SEQUINS: When I reach for sequins, I almost always grab a clear mix like these Moonshine sequins! Clear sequins are my favorite to work with because they match with literally everything. One of the things I love about a sequin mix like this is that there many different sizes included, which can be mixed and matched on your project. Having a variation in size for embellishments is important to me when adding them on a card, as it helps balance the design.
5. SCOTCH DOUBLE-SIDED FOAM TAPE: Adding dimension to a project is so much fun! You can create depth, draw interest to an element or bring a scene to life, simply by popping something up with foam tape! It's also handy for creating shaker wells with; simply stack layers of tape on top of each other around your window and then fill with your shaker bits! I love that the Scotch foam tape holds together so well; I never have to worry about a card falling apart. This is especially critical when creating a shaker card; we don't want sequins or beads flying all over the place when the card is shook!
6. LIFESTYLE CRAFTS QUICK STIK TOOL: When working with tiny things like die cuts or sequins, having a tool like the Quick Stik is invaluable. On one end of the tool, there is tack for picking pieces up. At the other end, the detachable pick/chisel allows you to push items around while placing them on your project. I find the Quick Stik extremely helpful when trying to adhere very small sequins onto a project.
7. SIMON SAYS STAMP INTENSE BLACK INK: If you are like me, you love to work with a variety of mediums. Because of that, I find it important to have an ink that is compatible with the properties of those different mediums. For all my outline stamping, I reach for Simon's Intense Black ink. The ink is true black and water-proof with water based mediums, as well as bleed-proof with alcohol inks (such as Copics). So no matter what medium I reach for, I always know my stamped images will stay crisp and clear!
8. TIM HOLTZ/TONIC MINI SNIP SCISSORS: Tim Holtz has a couple of different scissors on the market, but by far my favorite pair is the Mini Snip scissors! Not only are they compact and made with the same non-stick, titanium blades, but they can maneuver small areas too! These have been so handy for me in fussy cutting thicker materials such as watercolor paper; regular, fine tip scissors have a tendency to not cut quite as cleanly because of the thickness. But the micro-serrated blades of the Mini Snips can cut through those thicker materials SO smoothly. The scissors are also great for using with foam tape or other sticky materials because of the special coating on the blades. No more having to try to clean up scissor blades because the got "gummed up" by tape!
9. SIMON SAYS STAMP LARGE GRID MAT PAPER: Keeping my work surface clean is important to me (I'm a neat freak, LOL!), and I love using Simon's Large Grid Mat for doing just that! The surface is 11″ x 17″, so no matter how large or small your work surface is, this paper should fit right on top. I find that my favorite way to use the paper is by taking one sheet off at a time and temporarily adhering it down to my table with masking or washi tape (to prevent it from sliding around).
10. NEENAH SOLAR WHITE CARDSTOCK: White cardstock is such an important tool for me as a crafter. I enjoy the look of white in the majority of my cards; the fresh, clean look just makes everything pop! This paper is perfect for coloring, especially with alcohol-based markers such as Copics. In shading techniques, the colors blend on the paper extremely well. There are two weights of Neenah cardstock; 80lb and 110lb. I most often reach for the 110lb because I like the slightly thicker and more sturdier feel, but this is personally preference; both weights provide beautiful results.
I hope these Top 10 must-haves were helpful to you in deciding if any of the products are something you need to add to your collection! I find all of these extremely useful in so many -if not all!- of my card projects. And if you are a new crafter, you may also want to check out our resource of Beginner Series videos on our YouTube channel. We have a growing playlist of short videos that feature how-to's for must-have tools and supplies; they are invaluable lessons for any crafter to learn!
Thanks so much for visiting us today and I will be seeing you again very soon!
Blog Candy Alert!! Follow our blog via email and comment on this post for a chance to win grab bags and blog candy! Remember to tag your awesome projects with #simonsaysstamp on social media so we can see what you are creating!