Hi friends! Today we're launching a brand new monthly series with the delightful and talented Debby Hughes! Read on for the full project and enjoy!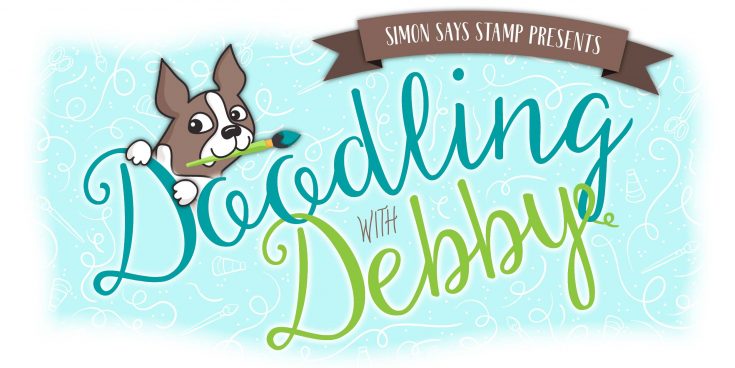 Hello it's Debby here today with a new feature for 2017; Doodling With Debby! Over the last few years I've had a Creative Uses feature each month on the Simon Says Stamp blog where I stretched my supplies. I'm delighted that in 2017 I'll still be popping in here every month, this time with the new Doodling With Debby feature. Each month may vary as to the focus of the blog post; it may be looking at products from a new Simon Says Stamp release, looking back at a previously released product or highlighting a technique. I'm so excited to continue my monthly video series with Simon.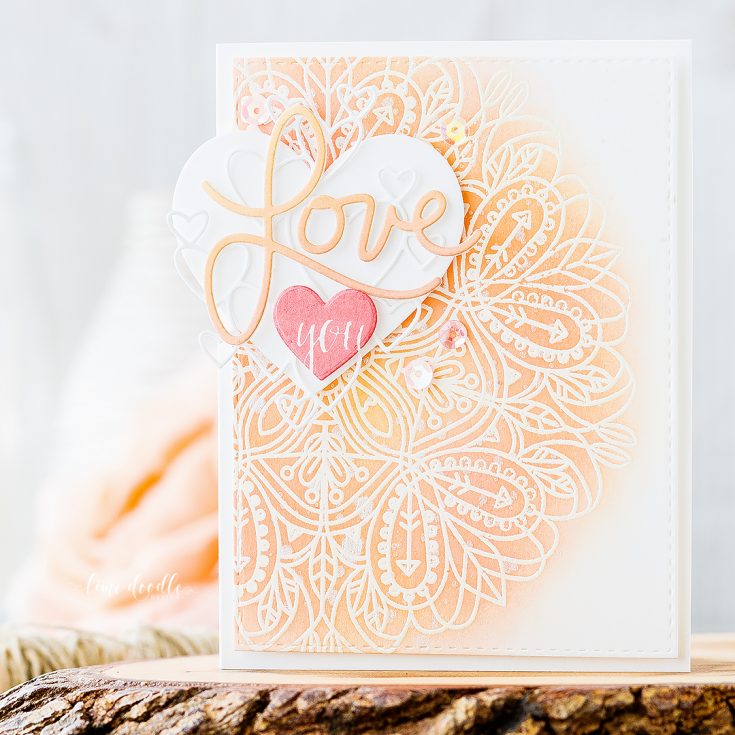 So lets jump straight in with this layered Valentine's die cuts card using several products from the new Hey Love release. As soon as I saw the Emma Background stamp I knew I wanted to white heat emboss it off the edge of a panel … so I did LOL! I chose one of my favorite color palettes – Simon Says Stamp Rosie Cheeks and Melon inks and blended them over the heat embossing before splattering the panel with a solution of Perfect Pearls.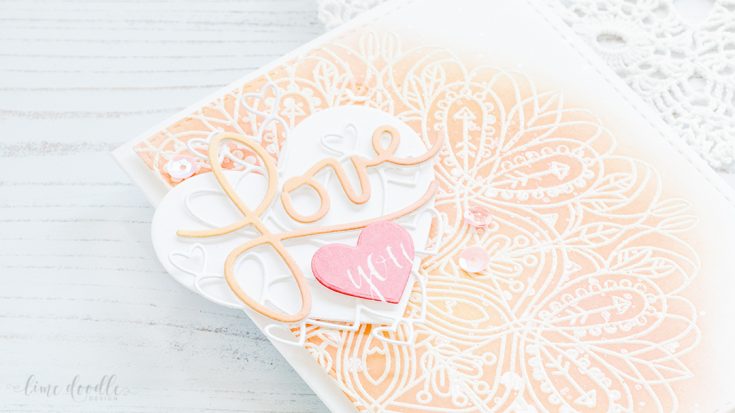 Moving on to the die cuts and I cut the Love, Clipping Heart and a Nested Heart from white card. However, although I loved all the white on white I did feel the Love die cut got a little lost so I cut it again from a scrap of card blended with the Melon and Rosie Cheeks inks again. This time the Love word popped nicely off the other die cuts.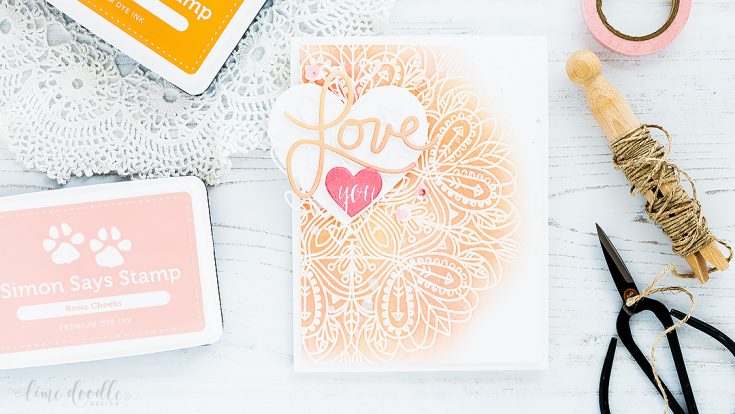 I also stamped the heart from Love & Quotes in Teeny Bikini ink and die cut it with a Nested Heart. Lastly on the die cutting, I cut the ink blended Emma Background panel with a Stitched Rectangle. With everything now ready I layered the die cuts on top of one another, using foam adhesive for the hearts and Ranger Multi Medium Matte for the more delicate Love and Clipping Heart die cuts. I also adhered the ink blended Love die cut over the white one I cut originally to give more dimension. Finally I added a few sequins to finish and mounted the panel on a side folding white A2 card base.
Watch below or in HD at YouTube.

Thanks for joining me today for the first installment of Doodling With Debby!
SUPPLIES:
Thanks for reading today, and thanks to
Debby
for this fabulous inspiration!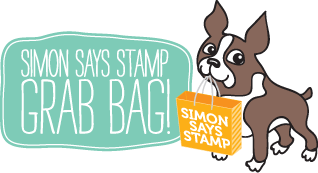 Blog Candy Alert!! Follow our blog via email and comment on this post for a chance to win a special blog candy!
Hello friends! It's Nina-Marie here with you this week sharing five tips that you may find helpful in organizing your craft room and supplies!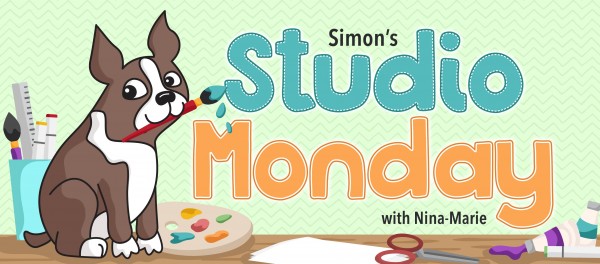 Organization is something I love. I am constantly coming up with new ways to reorganize my studio! Organization is important to me because it is one of the things my workflow relies heavily on; if my studio is messy and no easy to navigate, I am less productive. I also am a person that likes things to be fresh and new, so I update my organization methods within my studio often, just to give myself a fresh environment.
In today's video I am going to focus on 5 tips I find helpful in organizing my own studio and supplies. In the video, I also mention the previous Craft Room Organization Tips video that I posted here a few months back; you can find that post and video HERE.
TIP #1: BUTTONS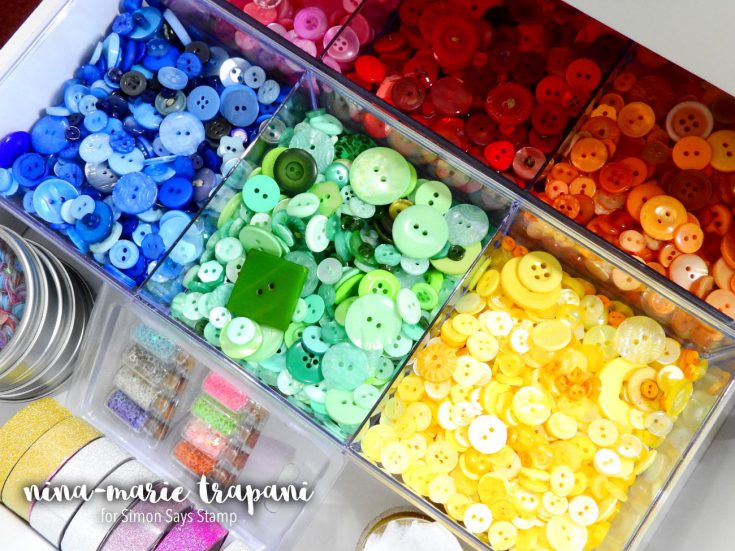 Buttons are a great embellishment for cards, scrapbooks, mixed media, DIY projects and more. I find it very handy for me to store them in divided containers, such as the InterDesign Clarity Tray. I sort the buttons by color hue and I can fit four of these trays in a 12×12 draw (two side by side and another two trays stacked on top).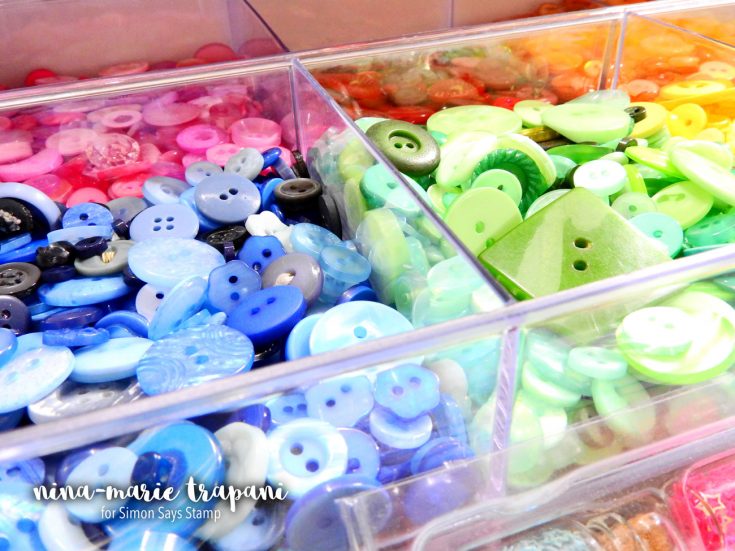 By having the buttons organized in color (like pretty much everything else in my studio!), I can easily reach for what matches my card best and keep on creating!
12×12 BINS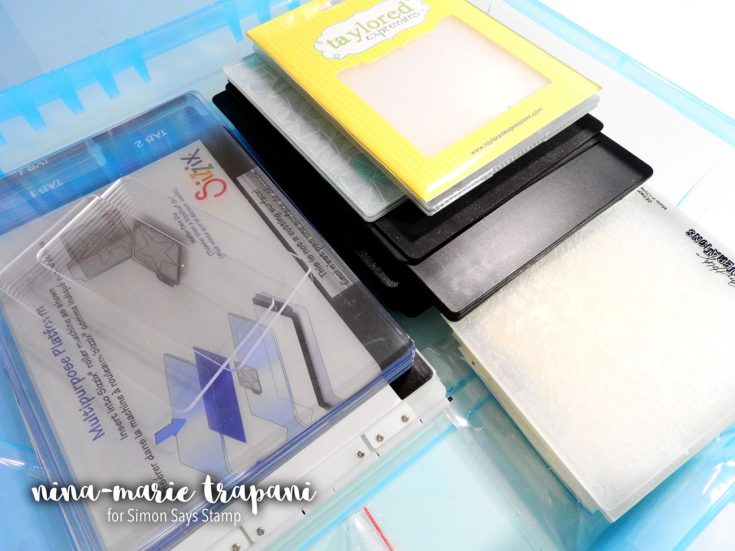 Plastic storage bins such as the Alvin Stow and Go, are perfect for tucking away supplies you don't reach for as often. I can fill these with quite a bit of product and then tuck them on a shelf to keep my supplies clean and ready to use.
Some examples of how I use these bins include:
Foam sheets: I can fit a huge stack of 8.5×11 inch foam sheets inside these bins. In the space leftover in the bin. I can also tuck my scraps of foam that I end up with from projects.
Die cutting supplies: In another bin I store my extra cutting plates for my Big Shot, as well as platforms, impression plates and embossing folders. All of these can get tucked away until I need them.
Donations (not shown in video): I have another bin I keep with supplies I no longer need and plan on donating to charity. This keeps them protected, clean and in one place for me to go to when I am ready to donate them to someone that could use the supplies. I like being able to give back to others and help spread the "crafty bug"!
TIP #3: MAGNET SHEETS
Dies are something I think pretty much all of us have some of in our crafty stash! I love using magnet sheets to use as an organizational option for my dies. We carry a variety of different magnetic die storage option here at Simon Says Stamp, such as:
I personally like using simple magnetic sheets and storing the dies in stamp storage sleeves.
TIP #4: BAKER'S TWINE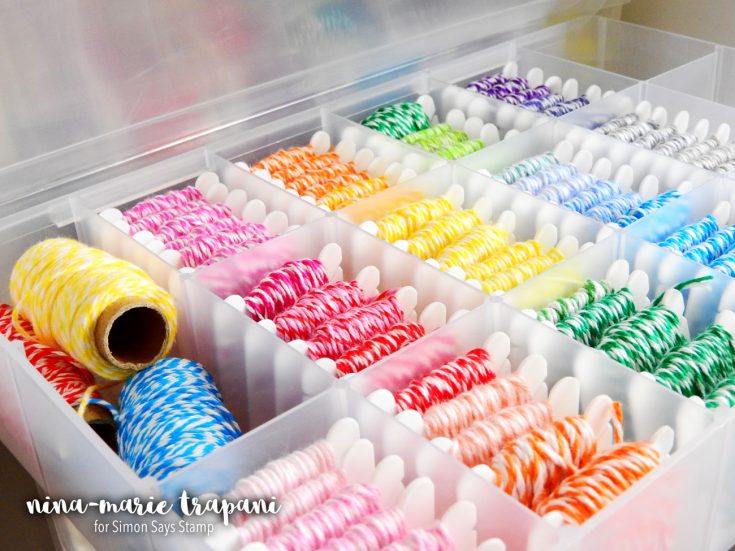 Baker's twine for me was ALWAYS an issue. I love the cute spools that they come on, but I always ended up having my draw of twine a mess. If you know me, I cannot stand having a mess! I tried a few different ways of storing the spools in hopes that finally I might be able to keep the twine corralled. One of my ideas that I fell in love with once I tried it was organizing it like my embroidery floss. For those of you that are needlepoint and sewing enthusiasts, this storage solution might seem familiar to you!
I used embroidery floss cards and wrapped the twine around the cards; most spools of twine fit on a single card. For larger spools I needed two or three cards. After winding all the twine onto my floss cards, I was able to then fit them into the Darice Floss and Needle organizer. This bin is inexpensive and comes with floss cards! For me, it is a must have.
TIP #5: MINI TINS
My final tip for today is for organizing mini ink cubes. I personally use mostly large ink pads in my studio because I like the larger size. However, I do have a few minis and I know they are all the rage right now in the crafting world. Because of that, I wanted to share this tip with you in today's post.
For my small collection of mini ink cubes, I have a Tim Holtz Mini Distress Ink tin. This is perfect for storing my minis and tucking the container on a shelf with other inking supplies. If I were someone that used the minis over the full size ink pads, I definitely would make sure that I had these to store all of them. One of my favorite feature of the tin is that it is "lockable", which is very handy for klutzy crafters like me! ;)
So I hope you will check out the video below to see all these tips in action! Thanks for stopping by and visiting me today. I will be seeing you again very soon! Bye!
WATCH THE VIDEO
SUPPLIES
BLOG CANDY
Blog Candy Alert!! Follow our blog via email and comment on this post for a chance to win grab bags and blog candy! Remember to tag your awesome projects with #simonsaysstamp on social media! We love to see what you are creating!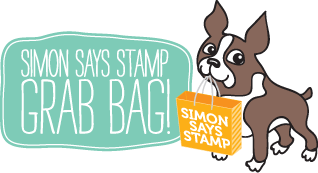 Hello my crafty pals! Happy weekend! What are you up to? I'm getting super excited about leaving for Phoenix this week for the CHA Convention! So I'm working hard to get organized and make all the projects I want to post next week. Thinking about seeing my friends and colleagues. It's all good! We are fully into the new year now and it feels refreshing and new – time for new goals and a new start at things. Welcome back to the latest edition of Weekender with Wanda. Happy to have you here!
Today I'm sharing a project featuring stamps from one of our favorite companies – Taylored Expressions! Simon Says Stamp carries over 900 products from Taylored Expressions in our store! Wowza! So many wonderful things to spark your creativity. One thing I love to do is make cards for my crafty friends. So today I made a clean and simple, and cheery card with some paintbrushes and a sweet sentiment. I used my Copic Markers to color the images and pretty paper from Echo Park.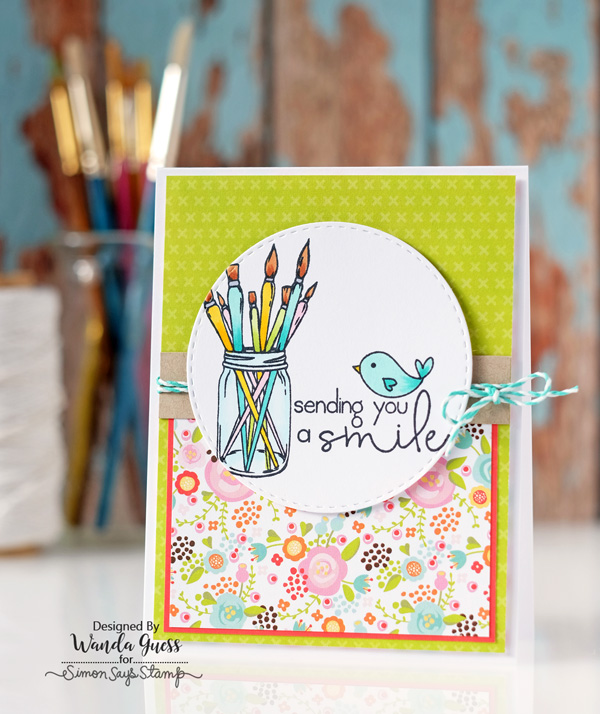 The sentiment on this card is from a stamp set that I LOVE – called C'mon Get Happy! I used my MISTI tool to line up the words next to the jar of paint brushes and I also used the MISTI to place the little bird right where I wanted him on top of the words.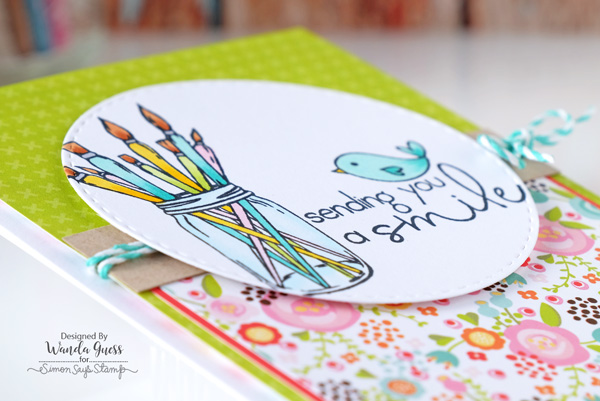 The little bird is from the Sunshiny Day stamp set and the paintbrushes are from another beautiful Taylored Expressions stamp set called A Life She Loved. The artwork on the images all works so nicely together.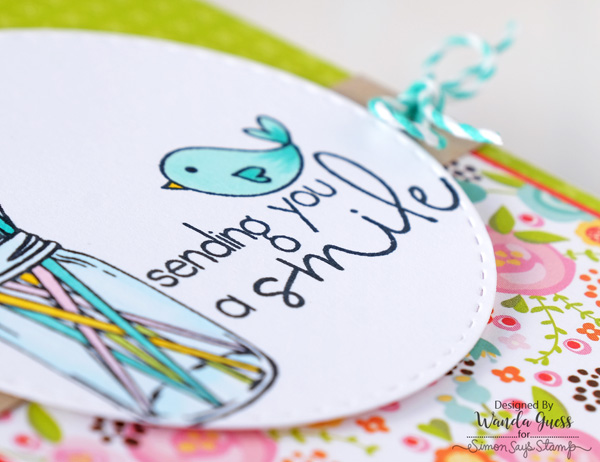 I started this card with a crisp white A2 card base. I layered papers from Echo Park to make a bright background for the focal images. I added a strip of Kraft cardstock and pretty twine underneath the Stitched Circle die. If you wrap twine around your card, use foam tape for your top layer – that gives just the right amount of room for the twine to fit underneath.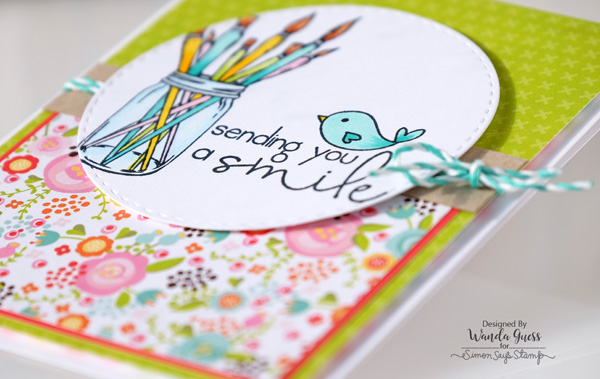 Sometimes in my posts I like to share a technique and sometimes, like today, I want to share a card layout. This layout for today is a great way to use your patterned papers when you have one main image. It can work for any occasion and in any color palette. This little note today is to send YOU a smile – hope it worked!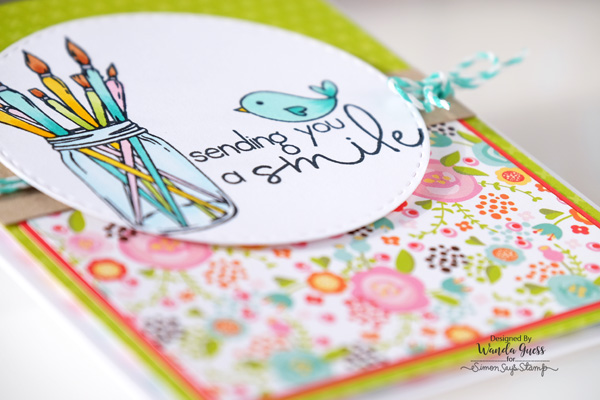 Happy Creating in the new year! Thanks for coming by today!
SUPPLIES:
Blog Candy Alert!! Follow our blog via email and comment on this post for a chance to win grab bags and blog candy! Remember to tag your awesome projects with #simonsaysstamp on social media so we can see what you are creating! See you next weekend!