Watercoloring Stamped Images + Canvases with Distress Crayons
Hey friends, it's Nina-Marie here with you today bringing you a video featuring the Tim Holtz Distress Crayons and how to do some fun watercoloring techniques with this unique medium! This video also features the super cute and BRAND NEW Crazy Dogs stamp set from Tim Holtz… lots of Tim Holtz inspiration to be had today! ;)
The Distress Crayons are one of the newest additions to the Distress line that was revealed by Tim Holtz and Ranger in early 2016. What makes the crayons unique from the other Distress mediums is that they become permanent once they've reacted with water. Whereas a Distress ink, stain or spray can be reactivated with water over and over, once Distress Crayons are activated the first time, you cannot reactivate them again.
In today's video, I'll be showing you how you can watercolor with the Distress Crayons on both watercolor paper and media board (canvas-covered chipboard). I chose both surfaces because they each have a bit of "tooth"; in other words, they are more rough in texture. If you want a watercolor paper that is more smooth, try Strathmore Bristol paper.
The watercolor paper I will be using today is the Canson XL paper and the canvas media boards are ones I picked up from my local craft store. However, I will link to a Dina Wakley media board assortment we have in the Simon store that is pretty much the exact same thing as what I used in today's video. Do keep in mind that you will want to prep the canvas media board with gesso before applying your Distress Crayons over top because the coating on the media board is a bit slick; I'll talk about this in the video as well and show you how I applied some Dina Wakley gesso over the canvas before watercoloring.
One of the things I love most about using a paper or canvas that has more of a rougher texture, is that it allows the texture of the crayons to show up better. The natural texture of the Distress Crayons adds a lot of interest to your project, and you can use this to your advantage when creating with this medium. In today's video, I'll show you how I enhanced the texture of the Distress Crayons when I applied the dot background to my mini canvas to create a bit more visual interest.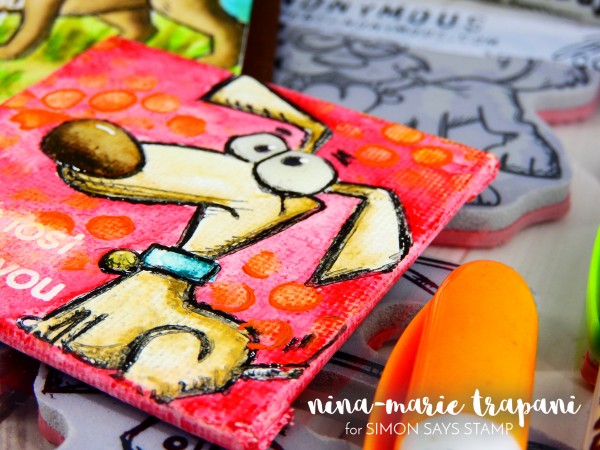 So to see these crayons in action and learn some tips and tricks for how to best use them in your watercoloring, be sure to check out the video below! If you enjoy the video, please give it a big thumbs up and subscribe to our YouTube channel and blog so that you do not miss any of our weekly posts and videos!
SUPPLIES

Remember to tag your awesome projects with #simonsaysstamp on Instagram… We LOVE to see what you are creating!
Blog Candy Alert!! Follow our blog via email and comment on this post for a chance to win grab bags and blog candy!