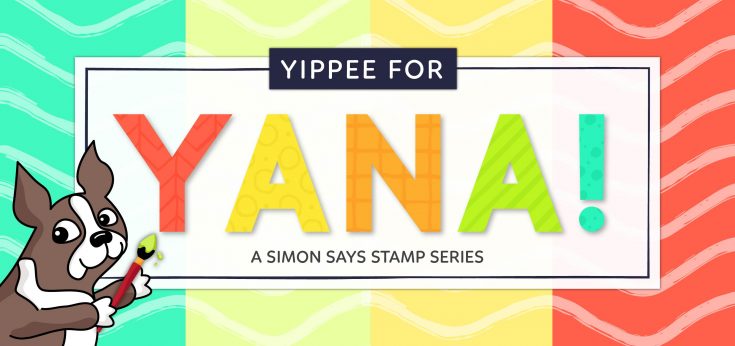 Hi friends! Happy Friday! Thanks for stopping by today! We're back with the latest edition of Yippee for Yana! Be sure to watch the video, read on, and enjoy!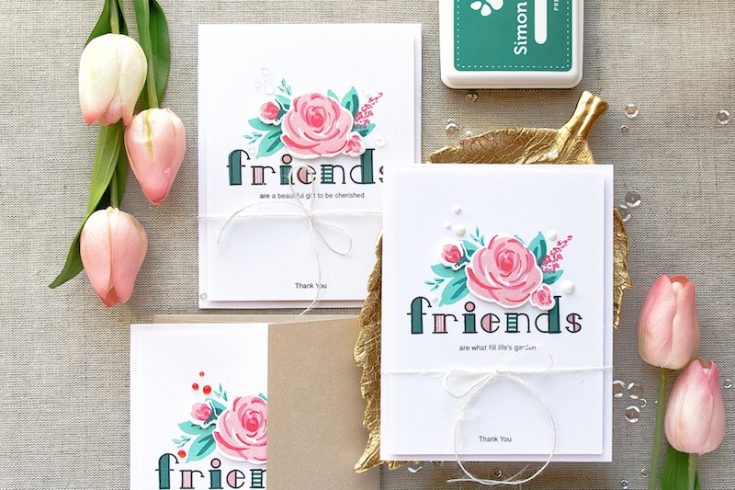 Hi everyone, this is Yana Smakula and I'm excited to bring you another episode from my by-monthly "Yippee For Yana" video series! In today's video I'm showing you how to create simple floral Thank You cards for friends using products from Simon Says Stamp, WPlus9 and Altenew.
Whenever I use supplies from different manufacturers, products, where styles are a bit different I always try to tie them together using color. In today's video you'll see that by using similar or identical colors I'm able to bring 3 different stamp sets into one harmonious card design.
The 3 stamp sets I am using today are Filled Alpha by Altenew and I'll use it to spell out word "Friends". I am also using Friends of Life by Simon Says Stamp; I will be using smaller sentiments from here. And the last stamp set I will be using for my project is from WPlus9 and it is called Freehand Florals.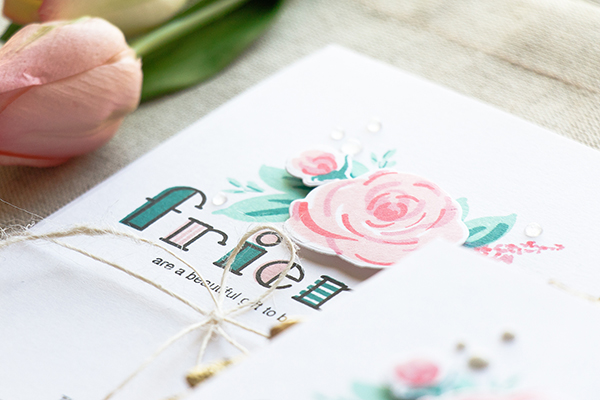 I started working on my cards by stamping the main word out – Friends. I decided to use my stamp positioner and mount all of the letters at once to save time. You can stamp each letter individually if you'd like the spacing between letters to be smaller, but these stamps fit together rather nicely and don't have huge gaps in between letters.
I used Simon's Black ink for my stamping and double stamped each image to have a nice black outline. I added a tiny Thank You message at the bottom of my panels and one additional message to each card. I used different sentiment and stamped "Friends Give Off a Fragrance of Love", "Friends Are What Fill Life's Garden" and "Friends Are a Beautiful Gift to be Cherished".
The cool thing about Filled Alpha stamp set is the ability to add color and texture to every letter. This stamp set has additional filler shapes that are meant to be used to add color to the stamped images. Of course letters can be used without them, but I couldn't resist using these to add a pop of color to my projects.
I added inserts to every letter and stamped them in Teal and Twirling Tutu ink colors from Simon. I not only used solid shapes to add color, but also vertical and horizontal stripe shapes.
I really love how modern and versatile this stamp set is and I think it's going to be one of my favorite alpha sets. I am looking forward to stamping just the solid shapes on their own to create unique background pattern.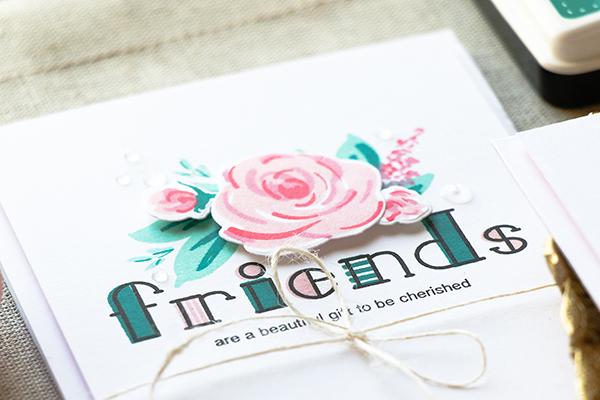 I added several stamped leaves onto each of my panels using Spring Rain and Teal ink colors from Simon Says Stamp and Freehand Florals images.
To create flowers I had to do some die cutting first. I used my Spellbinders Platinum 6 die cutting and embossing machine and die cut flower shapes out of white cardstock. Lately I prefer to do die cutting first and stamping later, but with this stamp set, with the Freehand Florals, you actually need to cut a shape out first to be able to align images as intended (that is if you plan to cut your image out, if you do not plan to cut it out – you simply stamp the image as usual). For my stamping I used Twirling Tutu, Hollyhock and Hot Lips.
As I finished stamping my flowers I decided I needed to add some additional images onto my background to make the floral arrangement a bit fuller. I stamped another element using Hollyhock and Hot Lips and after I finished foam mounting my flowers, I also stamped a few smaller leaves.
I foam mounted every panel onto an A2 top folding white card base and added Nuvo Crystal drops onto each. I went with different colors to make each card slightly different. I used Strawberry Coulis, Morning Dew and White.
One last thing I did – I added natural twine and tied it into a bow under the sentiments.
Have fun stamping!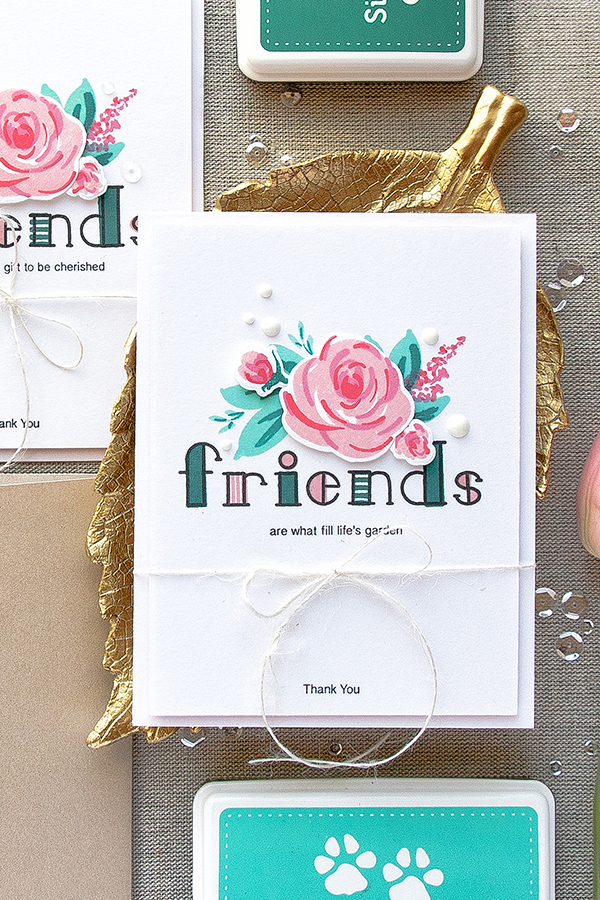 SUPPLIES:

Thanks so much for stopping by and a big thanks to
Yana
for being our guest!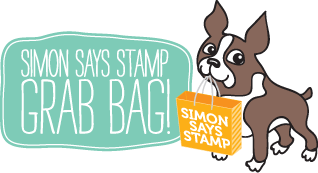 Blog Candy Alert!! Follow our blog via email and comment on this post for a chance to win a special blog candy!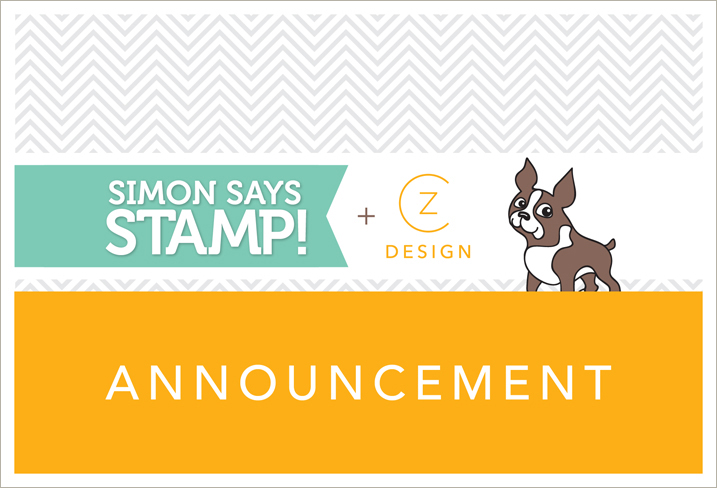 Hi friends!  Today is an exciting day for us and we are so pleased to share the news!  Well known and highly respected in the scrapbooking industry for many years, Cathy Zieske is joining forces with Simon Says Stamp.  We are helping her bring her CZ Design fresh and fun designs to market for you. Welcome 4 introductory clear stamp sets that are now available for reserve at Simon Says Stamp *shipping in mid May.
Simple Sentiments No. 01
Salty Ladies No. 01
Archie Numbers
Archie Alphas

This Simple Sentiments No. 01 is my favorite CZ Design stamp set. What's yours? Be sure to visit our store to see all 4!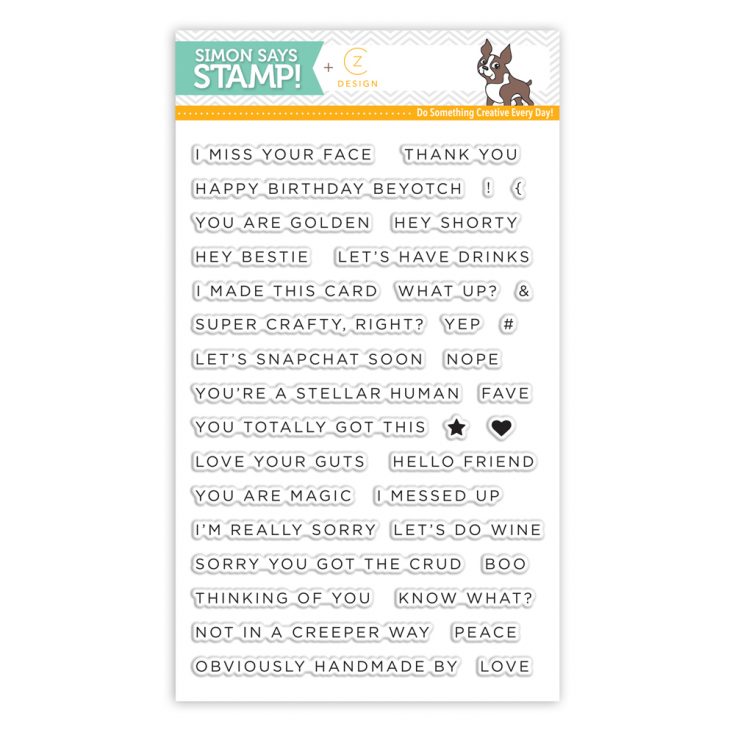 There will be wafer dies coming soon to coordinate with many of her designs.
I love these cards below that Cathy has created (notice the sentiments are from her collection).  It's hard to believe she's only caught the card making bug so recently!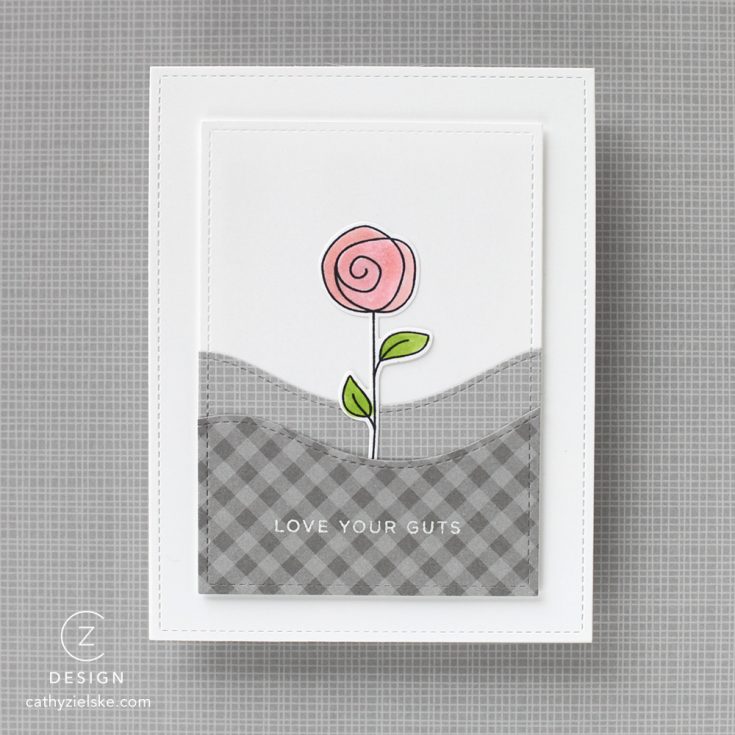 I think you'll really love Cathy's personality and charm.  Her blog is relatable and makes me giggle almost every time I read it.  Be sure to pop over. Please.  I'd love for you to see Cathy's charm and wit.
But that's not all folks, Cathy teaches online classes too! If you're interested in an online class that's created to be fun, informative and highly do-able, make sure you check out Cathy's online class library!
Cathy has recently gotten hooked on stamping.  (I can relate to being hooked!, can you!?)  Let's welcome her with open arms.  Please use the comment section here and on Cathy's blog to welcome her and tell her what YOU love about stamping.  We will be reading the comments and select random people on our Simon Says Stamp blog next week to win her new stamps *that are coming in Mid May.
Happy Fri-YAY!  It's great having you with us today!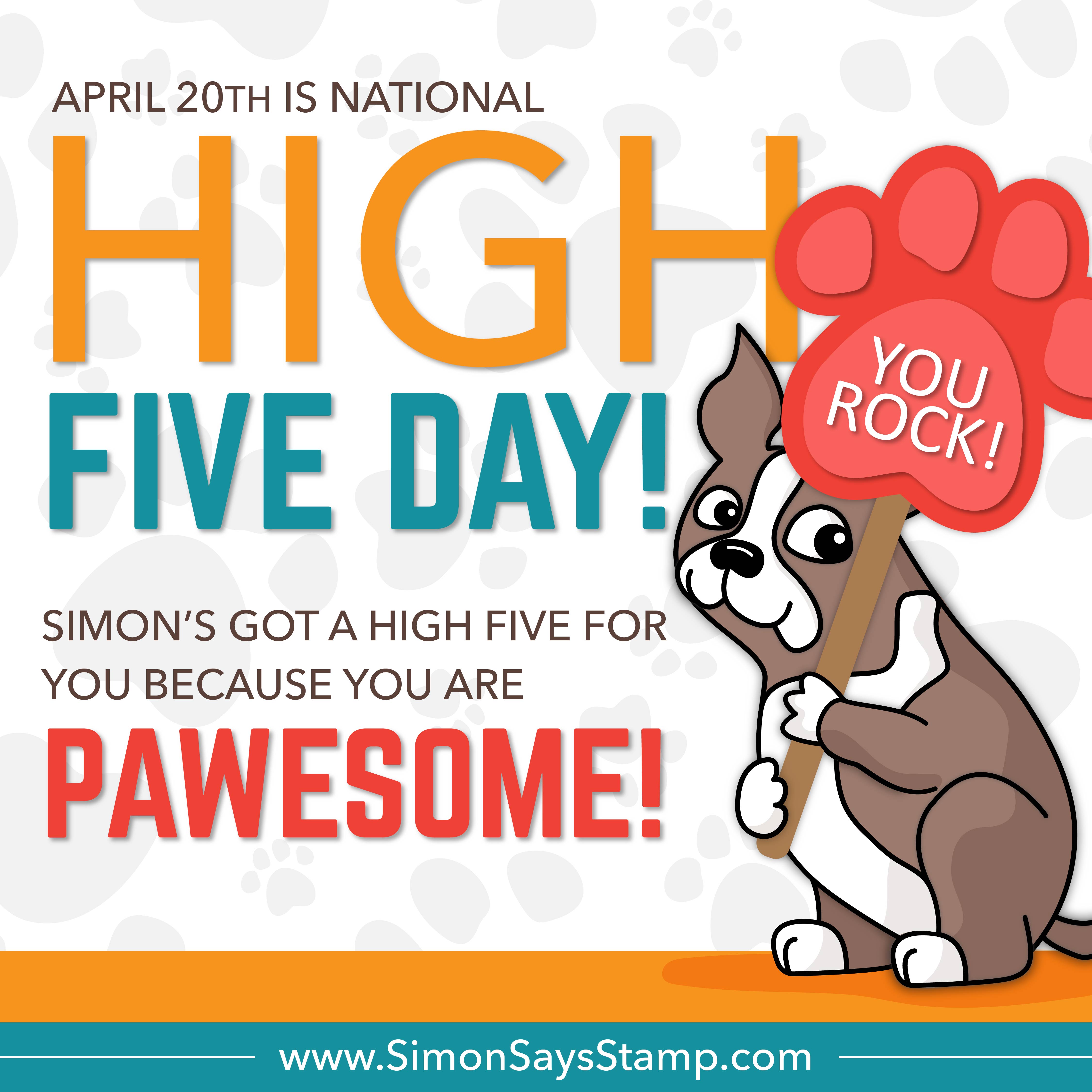 Happy High Five day everyone! Have you given anyone you know a "high five" today? I love giving my friends who live far away "high fives" in the form of encouragement cards. Encouragement cards cover a wide range of occasions. Today I want to share a set of encouragement cards I created that feature stamps from both Pretty Pink Posh and Simon Says Stamp! I'm also going to focus on how you can use simple, inexpensive coloring supplies to get awesome effects!
I'm sure a large majority of us all have Crayola markers on hand somewhere in our homes. Crayola products have been in all of our lives for years! In our most recent monthly card kit, Animation, we included a box of 12 Crayola Fine Line markers. While these aren't your artist-grade, alcohol-based Copic markers, you'd be surprised at how well these fine line Crayola markers work and what you can do with just 12 of them!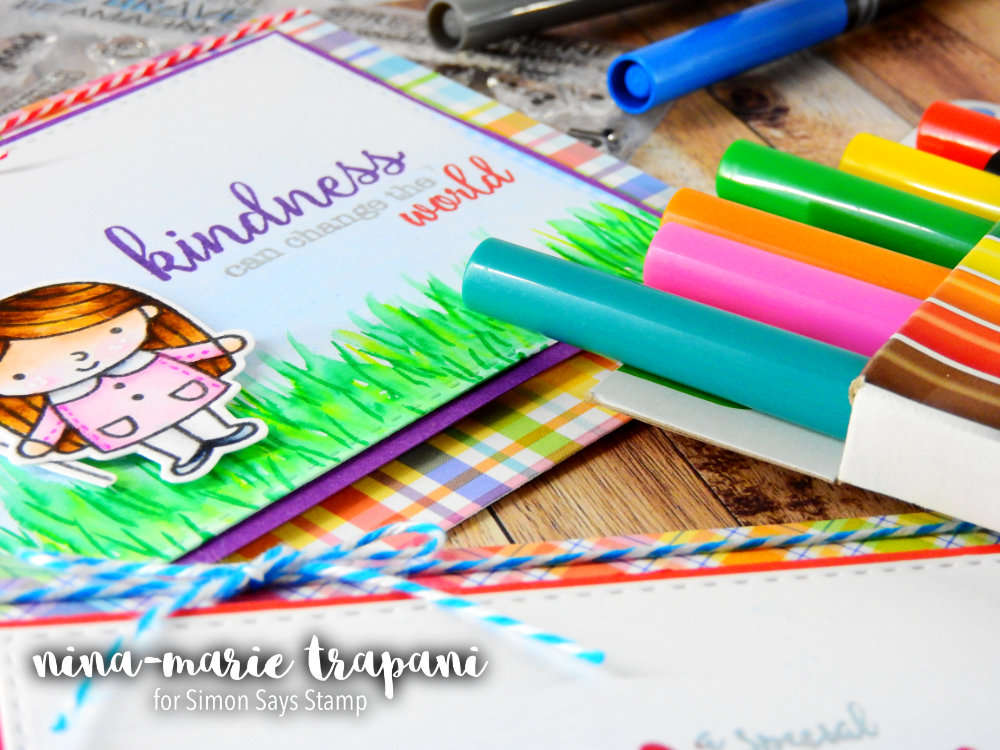 The one big difference these markers have in comparison to Copics is that the Crayola markers are water-based. This means that the marker ink will reactivate when it comes in contact with water. Because of the water-reactive properties, you can use these markers for watercoloring! Today I am focusing only on Crayola markers, but the same thing goes with other water-based markers, such as Tombow or Zig markers.
I used the markers to watercolor the adorable little kids from Pretty Pink Posh's Friends Forever stamp set. There are four children in the set, with a few accessories too. They can be used alone, as I did here, or together to create a cute grouping! I think these would be really fun for kids to color as themselves to then send as a more "personalized" card. Imagine – with the upcoming Mother's Day and Father's Day holidays – how fun it would be for moms and dads to receive handmade cards with these kids colored as their own children?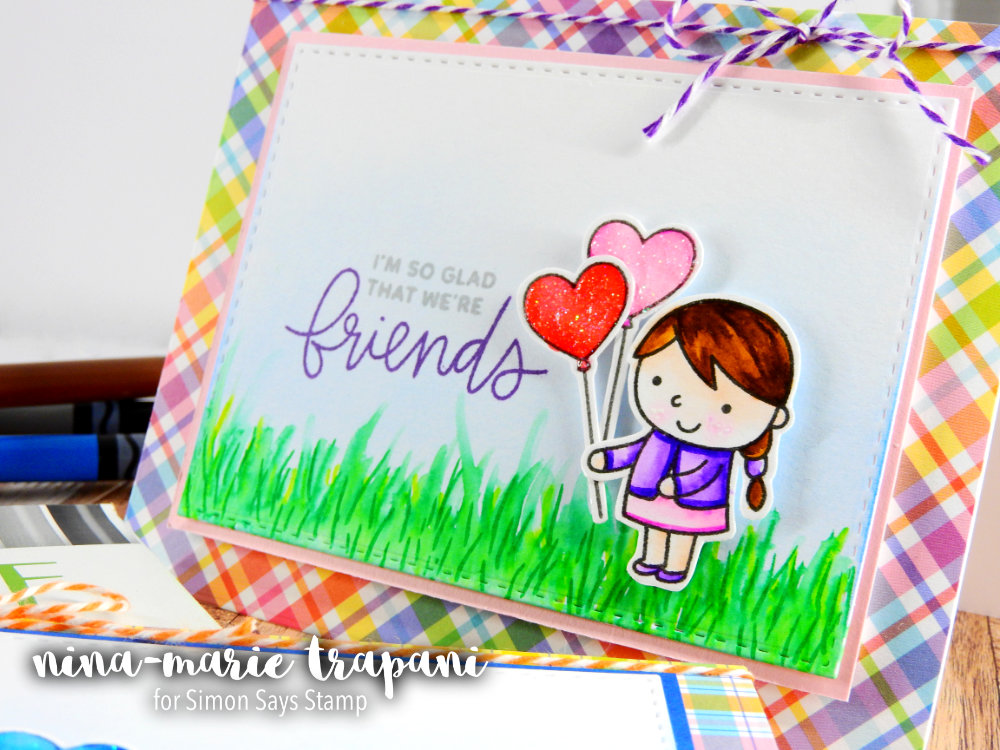 I paired the kids with sentiments from Simon's Uplifting Thoughts and Loving Heart stamp sets. To make the sentiments a bit more interesting, I cut the stamps apart and used multiple colored inks that matched the colors I used for the children.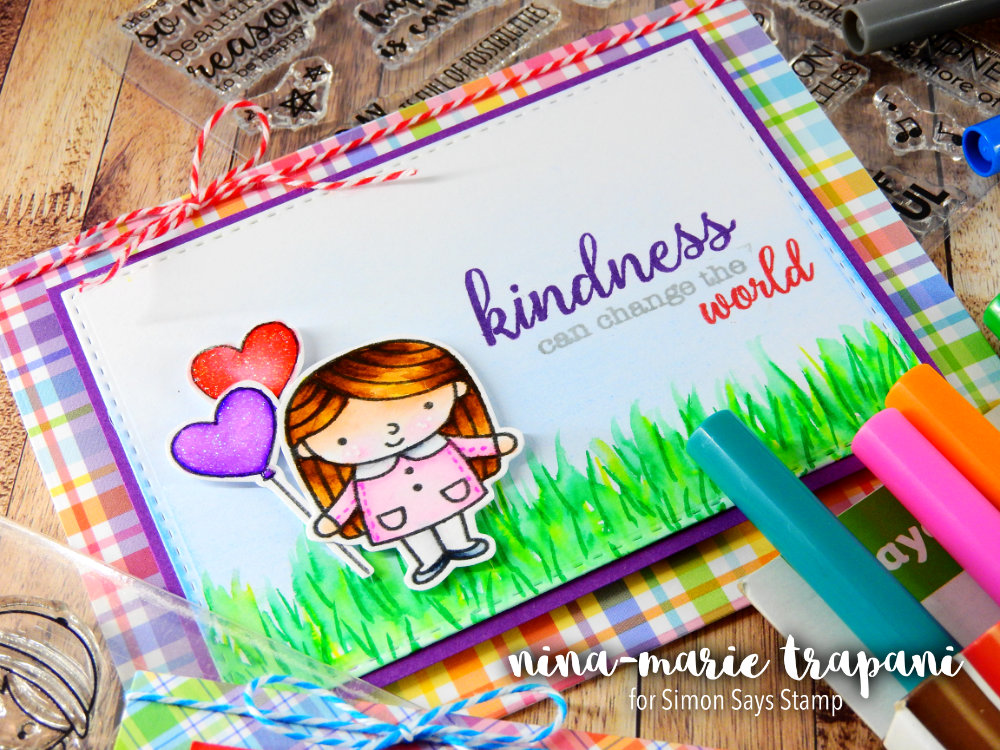 Because these cards are meant to be encouraging, I wanted to go with something colorful. The newest plaid paper collection from Lawn Fawn – Rainbow – was the perfect papers to pair with these kiddos. I have pretty much used up all the paper I had from that pad, I love it so much! Going to have to get another one!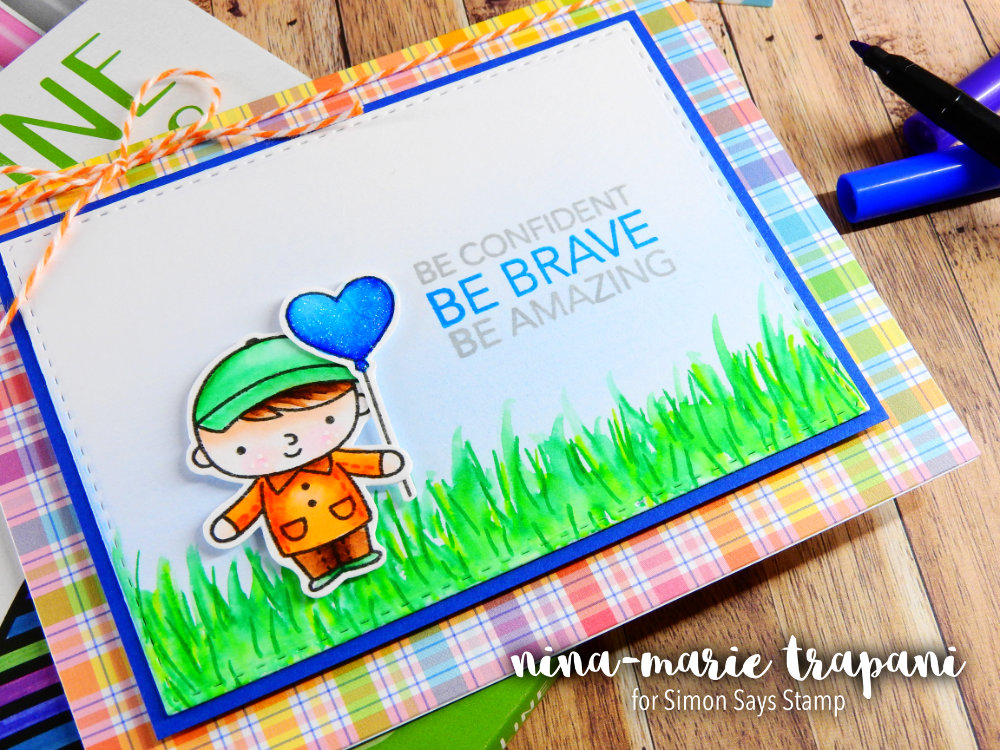 I hope today's cards inspire you to create something encouraging for someone you know! I also hope it proves a good demonstration as to what you can do with even the simplest of coloring mediums, such as Crayola markers! Thanks for visiting me today and spending some time with me… I'll be back next week with a brand new Studio Monday video!
WATCH THE VIDEO
SUPPLIES
Blog Candy Alert!! Follow our blog via email and comment on this post for a chance to win grab bags and blog candy! Remember to tag your awesome projects with #simonsaysstamp on social media so we can see what you are creating!